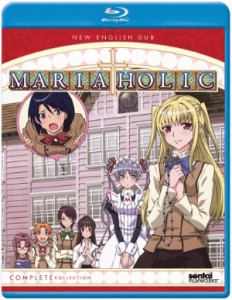 Title: Maria Holic the Complete Collection on Blu-ray
Director: Akiyuki Shinbo
Studio: Shaft
U. S. Distributor: Sentai Filmworks / Section 23
U. S. Release Date (English Dub): March 4th, 2014
Format: Blu-ray / 12 Episodes / 300 Minutes
Genre: Comedy, Gender Bender
Age Rating: TV 14
Overall personal Rating: B
Synopsis:
It's not easy to find the perfect girl, even when you're the same sex! Kanako thought attending an all-girls school would be the perfect way to meet the girl of her dreams, but after her hot new roommate turns out to be a guy in drag and catching the eye of the most popular girl in school only brings down the wrath of all the other similarly obsessed girls, she's not so sure!
Complicate things with a cat-eared dorm leader, her roommate's rude-mannered maid and identical twin sister (who attends an all-boys school, of course,) and way too many attractive girls of questionable persuasions and the question becomes whether Kanako can die from frustrated nosebleeds! (Life would be SO much easier if guys didn't literally give her the hives!) Will Kanako ever find a non-polar opposite of a compatible non-opposing polarity?
Commentary:
If there is one thing other than useless fan service that I dislike it is a hyperactive, spastic, spacey lead character. Maria Holic gives us Kanako who starts the series off  entirely to spastic and almost completely annoying. This does take a little bit of a rest as the series gets into its flow. but starting off with a uncontrolled loss of anything reasonable in a character just about sent me to the door looking for something else to do. I also had a hard time getting into Mariya as a character, but once the understanding of why he is cross dressing is uncovered it makes more sense than the bumble headed Kanako.
At first it was the post modern approach to the animation that drew me in and after a while I found the comedy to be much more even handed even if most of it revolved around Kanako's perversion. I slowly began to enjoy her personality and once she calmed down it I found her to be much easier to watch. And every time I began to loose interest I was teated to some wonderful deconstructive animation that made all the other nonsense worth while. I don't think that most people will see the animation as creative as I did, but there was only one other series that struct me this way and that was ef-a Tale of Memories / sf-a Tale of Melodies which were both done by Shaft. They did manage to make their mark on the quality of the style and pacing that the anime has. I think that with some series the added deconstruction makes all the difference in the world and for Maria Holic it saved the series foe me.
The comedy does a lot for the series and at time I found myself letting out a hearty belly laugh.  I know that the center to the series is Kanako and her inability or rather dislike of boys and her lust for girls, but there are plenty of other funny moments that prove to be very helpful in maintaining a solid approach to the over comedic relief for the series.
Overall Grade: B
The key elements to Maria Holic are the characters and the art design of the animation. I enjoyed most of the characters and maybe if Jessica Calvello had not been so over the top with Kanako I would have enjoyed better. Monica Rail did a very good job with Mariya and did an even better job of switching from male to female voices for the characters. The real hit for me is the wonderful work that Shaft does in giving us a story that says more than "Hi I'm an Anime" it says "Het, I got something else to say and I want to make you think a little!".
I know that there is very little about this series that the Maria Holic fans will dislike, but I think that there is plenty of material here that fans of comedy and solid art will love. So, check this out, it is fun and worth seeing for your self.