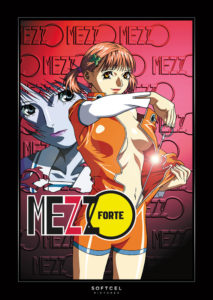 Title: Mezzo Forte
Director: Yasuome Umetsu
Studio: Arms / Green Bunny
U. S. Distributor: Softcell, Section 23
U. S. Re-release Date: Nov. 14th, 2017
Format: DVD / 2 episodes OVA / 60 Minutes
Genre: Action, Girls With Guns, Erotica, Sci Fi
Age Rating: 18+ (sex and violence)
Overall Personal Rating: C
Synopsis:
In Mezzo Forte, mob boss Momokichi Momoi has one way to deal with those who fail him: he kills them. Even when they're not criminals, but simply people who work for his legitimate businesses, no one is safe. Needless to say, that kind of poor employee relations has earned Momokichi a lot of enemies, and someone has recruited the elite Danger Services Agency to take him out of the picture.
But the D.S.A., comprised of ex-cop Kurokawa, tech guru Harada, and the lovely but lethal Mikura, is going to have their hands (and other body parts) full handling this case. Because while Momokichi kills for profit, his daughter Momomi is even worse and kills because she gets off on it! Two ultimate bad girls face off as the blood and bullets fly in the adult-only anime classic that tops sex and violence… with a side helping of EXTRA violence: MEZZO FORTE!
Commentary:
I guess it has been a long time since the original Mezzo Forte was released in the U. S. and that release did not contain the pornographic footage. This release has it all along with the original edited version just incase you don't care about the sex. I for one found the sex scenes to be distracting and pointless. I guess it was a way to show how good they are at animating sex scenes, but they ended up being more sexist and violent than anything.
The story was a little better but had a hard time defining itself. The Danger Services Agency is borderline criminal and at times straight up wrong. The only redeeming aspect was the humor that ran through most of the action sequences. There is a real tongue and cheek aspect to the violence and that is a positive in my mind.
Overall Grade: C
Mezzo Forte is a great look back at the Girls with Guns genre and also points out how much of these violent anime also have the propensity to be rather one sided in both the violence and in the pretrial of women and sex. In todays society anime like Mezzo Forte is a solid reminder of the work that is still needed to be done to get over the violence to and from women.
Other than that I guess I found the action to be rather fun and at time well animated. The sex or pornography was not my bag but I see how Mezzo Forte could make some fans very happy.