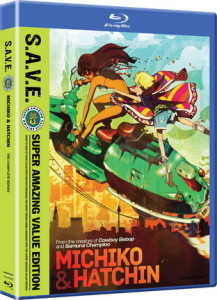 Title: Michiko and Hatchin S.A.V.E. on Blu-ray edition
Director: Sayo Yamaoto
Studio: Manglob
U. S. Distributor: Funimation Entertainment
U. S. Re-Release Date: May 12th, 2015
Format: Blu-ray / 22 episodes / 550 Minutes
Genre: Drama, Action, Adventure, Slice of Life
Overall Personal Rating: B
Synopsis:
Michiko is a stunning escaped convict with lethal looks and a deadly disrespect for the lawmen trying to hunt her down. Hatchin is a hapless orphan pushed to the breaking point by the sadistic spawn of her fiendish foster parents. On their own, these chicas are nothing more than a Yin searching for its Yang, but when fate – in the form of a mysterious hombre from their past – brings them together, the world better watch out!
With the future dead-ahead and la policia hot on their heels, Michiko and Hatchin burn rubber through exotic locals where danger lurks around every corner. It's two against the world in this sun-soaked, Latin-tinged tale of partners in crime who won't stop running till they chase down a dream.
Every bend in the road hides an ambush as Michiko and Hatchin continue their mad dash to track down Hiroshi: a man from their past that could hold the key to their future. Hit men, kidnappers, and sadistic gangbangers fill their rearview mirror as these ladies on the lam burn rubber across the Latin landscape.
With the throttle wide open and their motorcycle pointed toward the ocean, Michiko and Hatchin defy fate by living freer than they've ever lived before. New friendships are forged, young love blooms, and the partners in crime inch ever closer to the man they seek. But just as the long-awaited reunion is about to become reality, the law closes in on them – leaving Michiko to face an agonizing decision that will change both of their lives forever.
Commentary:
This unique series brings something rather interesting into the realm of the slice of life. It brings in your face brutality and a harsh cruel world that all too many children know. Being placed in South American you get a distinct feeling that growing up poor is very tough and it breads hatred and violence in ways that define humanity in an ugly and despicable light. Throughout the entire series I wanted to root for Hatchin and at the same time I wanted to slap Michiko for who she was. As the series progresses you begin to get a feeling that Michiko is just a product of her environment and that she wants to find another path to follow. Hatchin is someone who knows the horrors of the world but doesn't want to get trapped by the violence that surrounds her. This struggle defines the series and at the same time it brings it down to a level that makes it easy to concentrate on the easy way out. Too often the crazy people win and at the same time the momentary flashes of hope and light get extinguished.
The animation and soundtrack help keep this series grounded. The animation it lively and full of color. It accentuates the environment and brings forth a constant feeling that hope is just around the corner. The soundtrack reminds us of where we are and the raucous aspect of the series. It is lively and sharp at the same time. Both of these critical devices make a difference that you don't always see or hear in an anime. Way to go Manglobe for the great animation and Alexandre Kassin for the lively soundtrack.
Overall Grade: B
Although I think very highly of the animation and soundtrack for Michiko and Hatchin, I just can't get over the way it give in to the low brow need to take some of the violence over the top. I get that the world they live in full of violence and you have to be very tough just to survive, but at times it seemed that there was no hope for them and that they would just become poster women for the heartless world many people live in. The strange thing about the series is that I kept coming back to Bunny Drop and how the relationship between Michiko and Hatchin was devleoping. I understand that Bunny Drop is much more touching and heart felt but to watch to unrelated people gradually become family is always a good feeling.
Michiko and Hatchin is a series if for those who love to experience the harsher side of life and at the same time have a little warmth mixed in. It is also great that Funimation has brought it back in a single S.A.V.E. edition.