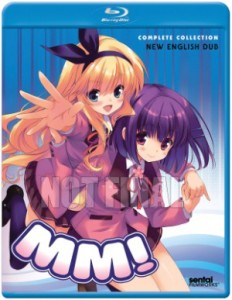 review provided by Katie and Andrew
Title: MM! The Complete Collection
Director: Tsuyoshi Nagasawa
Studio: Xebec
Author: Akinari Matsuno
U.S. Distributor: Sentai Filmworks / Section 23
U.S. Release Date: February 11, 2014
Format and Length: Blu-ray / 12 Episodes / 300 Minutes
Genre: Comedy, Romance, School, Ecchi, Harem, Parody
Industry Age Rating: TV-MA 17 and older
Overall Personal Rating: C-
Similar Series or Titles to Check Out: Okami-San and Her Seven Companions, Mayo Chiki! and Haganai: I Don't Have Many Friends
Synopsis:
Taro Sado has a problem. He just realized that he actually likes being made miserable and knowing that only makes him more miserable. Then it turns into a viscous cycle. Desperate to break the cycle, Taro volunteers for a special club where he can hopefully work through his issues, but he soon discovers that the other members have equally complex issues to deal with. There is the club president who believes herself to be a god, a girl who is terrified of men, an adult who forces other people to perform cosplay, and a compulsive cross-dresser. Will Taro be able to get over is problem or will it take over his life?
Commentary:
MM! The Complete Collection is a strange anime to say the least. The main character, Taro Sado, is a hard core masochist. He seeks the help of a club called the Second Voluntary club to help him turn back into a normal person. However, the club president is a sadistic girl named Mio Isurugi, who believes she is a god. She loves to hurt him and he loves the pain. That is basically the entire plot of the series bar a few episodes in the beginning that had some romantic feeling.
The plot was interesting and funny until they began parodying older animes. Then the storyline got silly, and not in a good way. They used the parody to fill in spots of the plot that were dragging along. I know I counted at least three animes that were parodied. Of the three, I recognized two off the bat and thought they were not used in the right way. But that is neither here nor there. Then they decided to have Taro's mother and sister try to have an intimate relationship with him and that was just not right. At least Taro tried to run away or yell at them each time they tried to start something. Things got very interesting when Arashiko Yuno showed up at his house one day because his mother and his sister were very jealous and hilarity ensued.
The character development was nonexistent in MM! The Complete Collection. The characters seem very one dimensional and only have one interesting quality, their "complex" issue that they each have. Mio Isurugi is the president of the Second Voluntary club and is a sadist. She also believes she is a God and is also afraid of kittens. Arashiko Yuno is Taro's classmate and she is afraid of men. She will attack any men who touch her and whenever Taro touches her, he is assaulted and he loves it. Michiru Onigawara is the school nurse who loves to make people dress up and perform cosplay and take pictures of it. She is a sister figure to Mio. Finally, we have the compulsive cross-dresser Tatsukichi Hayama who is also Taro's closest friend. Sadly, each character does not grow or change any during the series.
I think I would have enjoyed MM! The Complete Collection more if Taro had learned to control his hard core masochism or if any of the other characters changed at all. There was a lot of fan-service because of the cosplaying that was used to torture Taro. The opening theme kept my interest but I found the ending theme boring. If you like fan-service heavy animes that are of the harem genre then you will probably love MM! The Complete Collection.
Extras:
MM! The Complete Collection includes commentary with voice actors, Japanese promo and TV spot, DVD commercials, 10 short stories, clean opening and closing animation, and Sentai Filmworks / Section 23 trailers as special features.
Overall Grade: C-
MM! The Complete Collection is a good anime for what it is however; I usually like romantic or harem animes that have a better plot line and more character development. If you are strictly seeking a perverted comedy then I suggest you watch this, but if you want comedy with some romance and other things then watch either of the animes suggested below.
"In The Radius":
I recommend the following animes: Okami-San and Her Seven Companions, Mayo Chiki! and Haganai: I Don't Have Many Friends. Haganai is has a similar plot line, however it was better written and much more enjoyable.