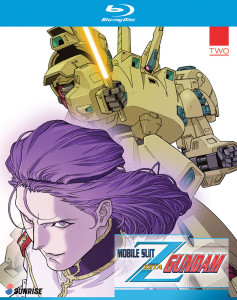 Title: Mobile Suit Zeta Gundam Collection Two on Blu-ray
Director: Yoshiyuki Tomino
Studio: Sunrise
U. S. Distributor: Nozomi/ Right Stuf
U. S. Release Date: April 5th, 2016
Format: Blu-ray / 25 Episodes / 625 Minutes
Genre: Mecha, Sci Fi
Age Rating: TV14
Overall Personal Rating: B
Synopsis:
A new force enters the Universal Century conflict. Can the A.E.U.G. fight a war on two fronts?
The Universal Century world is locked into an escalating conflict. While the A.E.U.G. resistance group strives to convince the world of the justice of its cause, the brutal Titans continue to suppress dissent through violence and fear. Now the struggle enters a new phase as a powerful third force enters the battlefield, and the A.E.U.G. and Titans race to enlist the support of the mysterious Axis renegades. Confronted with his past, Char Aznable at last decides to embrace his role as leader of the A.E.U.G. But his choice may have come too late, for the Titans have completed their most terrible and devastating weapon.
Commentary:
In the world know as Gundam there are often conflicting messages, but one thing stands true, women make great shields. I think Zeta has the greatest body count of martyrs than any other Gundam series. The one thing that runs through most of this plot devise is that most of them die for the wrong person.
Zeta Gundam is still one of my favorite series of the franchise and yet it manages to frustrate me and remind me how backward much of the mindset set was back in the 1980's. I am not proud to say that I come from the era and less proud to relive the foolishness that was viewed as high entertainment in the anime world,
Overall Grade: B
The series as a whole is good enough and is clearly a stand out in the Gundam universe. I know that there are a good deal of fans that will climb over each other to get their hands on this series and plenty that will stand back and scratch their heads. I do understand the fandom, I may not always agree with it but I get it.
So, all you Gundam fan get your Zeta hats on and get ready for part two of the Mobile Suite Zeta Gundam series to hit the store shelves. I know you will like it.