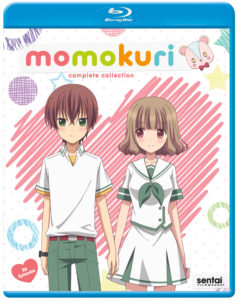 Title: momokuri Complete Collection
U. S. Distributor: Sentai Filmworks
U. S. Release Date:
Format: Blu-ray / 26 Episodes / 325 Minutes
Genre: Comedic slice of life romance
Audio: Japanese
Age Rating: TV 14
Overall Personal Rating: B
Synopsis:
It doesn't seem like he had taken the time to consider the offer. He just went for it. As a new high school student, Momo quickly agreed when an older girl confessed to him and asked him out. Yuri, not at all an average girl, is in her second year of high school and she has a serious crush (obession?) on him. She finds everything about him so incredibly cute, she can't help but seek out his location and secretly snap some photos, and maybe find a little memento. This awkward pair are both thrilled to be dating, but find nearly every aspect of having a boyfriend/girlfriend embarrassing. Very embarrassing.
As the school year progresses,  Kuri increases her collection of photos and mementos of Momo, usually through what many people would call stalking. Her best friend warns her this is weird and to keep it to herself.  Even so, she tries her best to make Momo happy. Through the holiday, tests and all the usual life moments, their relationship grows slow yet steady. A year end trip to a resort brings up questions that test this young relationship.
Commentary:
It can be fun and calming to watch the familiar.  Momokuri is full of typical anime settings like the waterpark, the festival, the amusement park, the haunted house, the hot springs and to finish off the list, the Christmas episode. What is important is what happens there. It all starts with Kuri seeing Momo from afar and developing a major crush. Being the kind of person to really put all her effort into something, she decides to confront him and viola they are a couple in episode one. Now, that is where anime starts going.
Momokuri  is a cute and friendly, light hearted comedy. There is no big challenges or obstacle to over come, it is just a slice of life. Like visiting friends. On that note, it really is the characters and their friendships that make this anime worth watching. All of them were easy to like. Momo is a gentle and conscientious person and Kuri is the energetic enthusiast who really dives into things, albeit often in a weird sort of way.
Now, as the anime goes on, Kuri's obsessive behavior gets weirder nearly becoming a character on its own. Her weirdness eventually causes her boyfriend to get confused and doubtful. It seems his old button or used straw might make her happier than actually being together. But it is all secondary to the pool of embarassment Momo and Kuri's relationships is drowning in.  The constant embarrassment makes this anime a poor candidate for binge watching. Every milestone their relationship reached, was accompanied by them both being embarassed. I'd say stick to 4 or 5 episodes at a time, because the constant of this emotion got annoying. Never fear, after a break, it started making more sense and I was no longer annoyed by the endless embarrassment. It can even come across as sweet.
Visually, this was well done. Nothing too inventive, but the art work really conveys the characters and their lives. Besides, there is no way a live action could convey embarrassment as effectively. The detail to clothing was also really good, especially the girls' outfits. They didn't really talk about it, but it added to the expressions of their characters and personalities.
Some of my favorite moments include the comedy surrounding the "indirect kiss",  it was sweetly funny.  I'd  also have to say the scene where someone is making cotton candy was really awesome. I watched it twice to make sure.  Yup, still awesome.
Overall Grade: B  Momokuri is romance about already being in the relationship. Along those lines, you might also enjoy My Love Story and Say I Love You.