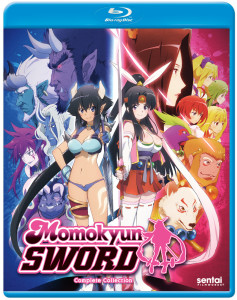 Title: Momokyun Sword
Director: Shinsuke Yanagi
Writer: Tsuyoshi Tamai
Studio: Tri-Slash, Project No.9
Distributor: Sentai Filmworks, Section 23
Format: Blu-ray, 12 Episodes, 300 Minutes
Genre: Fantasy, Action, Ecchi
Age Rating: TV 14
Overall Personal Rating: C
Synopsis:
Not every girl starts life as a baby inside a giant peach that was found floating in a river. But Momoko did. And most girls' best friends aren't Inugami the dog god, Sarugami the monkey god, and Kijigami the pheasant god. But that's who's been teaching Momoko how to use a sword and fight since she was little. With all this, one would expect that Momoko's life is going to be an unusual one.
So when an army of evil Oni starts rampaging through feudal Japan and a team of Heavenly-sent Celestial Goddesses arrives to stop them, is it any surprise that Momoko finds herself being recruited for an epic quest? Well, it is for Momoko, but for a champion of the Gods, she's a bit slow on the uptake. When it comes to fighting, she's peachy-keen and if there's one thing that's certain, it's that the bad guys are about to get totally creamed in Momokyun Sword!
Commentary:
Okay, the simple fact about Momokyun Sword is how important Momoko's breast are to the animation. Of course when the story revolves around  collecting a magical peach you know it is going to have bounce to it. And I mean bounce. I'm real sure if I have seen a large breasted young lady move in such dramatic fashion before. When she runs her ample bosom moves up in down in such a violent way that I would think it would do some physical harm to her.  I understand the point of the series to to attract young and maybe even older men because the plot and overall story misses the mark.
Overall Grade: C
Understanding the point of the series make it a little easier to watch because I know it is not about the story. The animation is rather standard fair with a solid prostitution value layer on top that helps to bring a easy to watch series to the viewer. I didn't expect much going into Momokyun Sword and I got what I expected. It is clear that the rosy bosom are more important than anything else.
So, if you are wanting some milder fan service and plenty of breast bouncing across the screen then Momokyun Sword is for you.