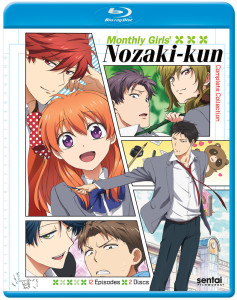 Title: Monthly Girls Nozaki-kun Complete Collection
Directed by: Yoshiko Nakamura
Written by: Yukari Hashimoto
Created by: Izumi  Tsubaki
Studio: Dogakobo
U. S. Distributor: Sentai Filmworks, Section 23
U. S. Release Date: March 29th, 2016
Format: Blu-ray / 12 Episodes / 300 Minutes
Genre: Romantic Comedy
Age Rating: TV 14
Overall Personal Rating: A-
Synopsis:
You know how the story goes: girl crushes on guy, girl confesses feelings to guy, guy mistakes confession for a job application.
Okay, maybe that's not how it usually goes, but that's what happens when Chiyo Sakura finally gets up the nerve to tell her classroom crush Nozaki how she feels. Since she doesn't know that he's secretly a manga artist who publishes under a female pen name, and he doesn't know that she doesn't know, he misunderstands and offers her a chance to work as his assistant instead of a date!
But while it's not flowers and dancing, it is a chance to get closer to him, so Chiyo gamely accepts. And when Nozaki realizes how useful Chiyo can be in figuring out what girls find romantic, he'll be spending even more time with her "researching" while remaining completely clueless. Could Chiyo's romantic frustration possibly get any more drawn out of proportion? The answer will be profusely illustrated in Monthly Girls' Nozaki-kun!
Commentary:
I was very weary going into this anime. I have seen plenty silly romantic comedies that were just one gussy scene after another. Monthly Girls Nozaki-kun manages to take this basic plot line and turn it into a very funny and enjoyable comedy. I found myself laughing out loud from the first episode all the way through to the last.
The real strength to the series is the writing. I thought the character development was well above par and the dialog superior to most romantic comedies being produced lately. The cast of characters was a great fit for the strangeness of the series and with there only being 12 episodes things kept moving at a perfect pace.
Overall Grade: A-
The only thing that I found disappointing was the high pitched persona of Chiyo. She managed to be a little annoying, and too shy about her crush. Other than that the blend of odd ball characters managed to keep the laughs coming and the relationship between Yuzuki and Wakamatsu. They appear to make a totally mismatched couple but are really perfect for each other and Wakamatsu is just a pushover for her and doesn't even see it.
Anyway, Monthly Girls Nozaki-kun is a blast and I recommend it to everyone. I think almost every anime fan will find something about this series that they can appreciate and get plenty of laughs to go along with it. On other thing, I love Tonuki.