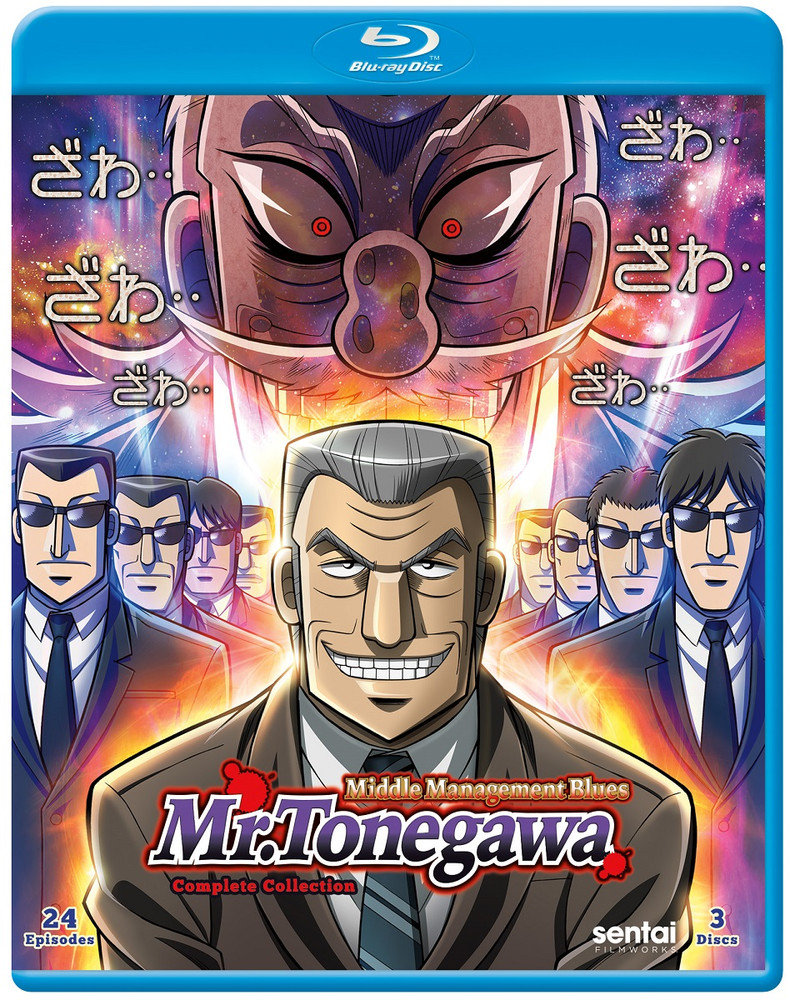 Title: Mr Tonegawa Middle Management Blues Blu-Ray
Director: Keiichiro Kawaguchi
Studio: Madhouse
U. S. Distributor: Sentai Filmworks, Section 23
U. S. Release Date: Oct. 15, 2019
Format: Blu-ray / 24 Episodes / 600 Minutes
Genre: Comedy, Absurdity
Age Rating: TV 14
Overall Personal Rating: B
Synopsis:
Nobody knows what it's like to be the bad man… except the bad man's right-hand man, who has to take the boss' deranged ideas and turn them into functioning plans. So, when the sadistic president of the Teiai Group decides he is bored with the routine leg breaking and widow/orphan evicting, he assigns the task of coming up with something "special" to his ruthless Number Two, Yukio Tonegawa. But how do you amuse someone who destroys a dozen lives before breakfast?
There's a huge pool of potential victims in the form of TFO's swollen roster of defaulting borrowers, but if Tonegawa and his team of nearly identical men in black look-alikes can't create a "game of death" that tickles the boss' demented funny bones, they may end up playing the game themselves!
Commentary:
Mr Tonegawa Middle Management Blues is something of a mystery to me. On one hand it points out some rather sad, terrible aspects of being a company man and on the other hand it glorifies the sadistic nature of the power hungry corporate management structure. I am not sure if I want to applaud it or bash it for its base nihilism.
The series is a list of funny and weird episodes that highlight Mr. Tonegawa's unfortunate position of being #2. It also gives us a look at what it is like to be the foreman of the lowest workers in the company and how being the foreman and being #2 can be nearly identical and yet somehow being the foreman appears to come across a bit more crass.
I laughed and cringed as I watched. I was always brought back to some of my rather mundane experiences in corporate America and how the absurdness of Mr Tonegawa Middle Management Blues managed to tell the same story. I wanted to cry a little.
Overall Grade: B
On the surface Mr Tonegawa Middle Management Blues didn't give me the warm fuzzy feeling of a great parody nor did I walk away feeling like I just watched something that really spoke to the plight of the average working person in our capitalistic world.
I found the animation style to be too crude to be effective and it took me several episodes to get past the cartoon flat world look. If there had been a little more attention to graphic design and less silliness in the overall presentation I believe that the point of how messed up our corporate structure really is and how people are nothing more than cogs in the machine could have come across.
I did find the series funny and at time it spoke to me. So, if you are looking for a rather bizarre series that pokes fun at working for the man, then Mr Tonegawa Middle Management Blues is for you.