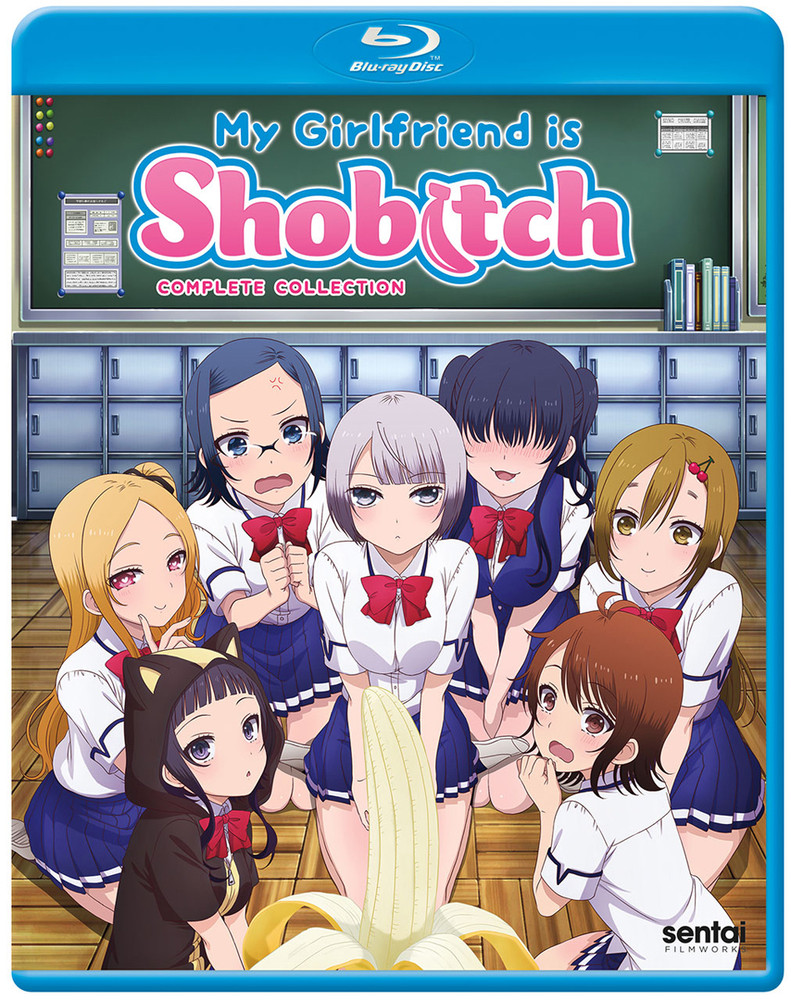 Title: My Girlfriend is Shobitch; Complete Collection
Director: Nobuyoshi Nagayama

U. S. Publisher: Sentai Filmworks
U. S. Release Date: 2-12-19
Format: Blu-ray / 10 Episodes plus OVA/ 275 Minutes
Genre: Comedy (Fan Service)
Age Rating: MA
Overall Personal Rating: A- For Episodes 1-10, D if you include the OVA See commentary for explaination.
Synopsis:
My Girl Friend is Shobitch  (better translated as a "slutty teen", but she actually wasn't) is a sexual comedy. It is all about the jokes, puns, slapstick and fan service. So, the plot isn't that important, but it does actually have one. So, here it is:
A typical high school boy in Japan, Haruka, confesses his feelings for fellow classmate Akiho. He has been admiring her (fantasizing) for a while. However, those images where not anywhere near the relationship that he has suddenly entered. Akiho is serious and studious by nature (Wait until you meet her mom, you'll see where it all comes from.), yet she has no natural sense of human interactions, especially between a romantic couple. So what to do? Study of course. In her matter of fact, monotone and nearly emotionless voice, she succinctly asks for his preferred fetishes and more. She is a top student, and she will put the same study skills into being the ideal girlfriend. Unfortunately for Haruka, her informational sources are above and beyond what he had in mind.
Commentary:
First and foremost, it needs to be said that this is an anime for adults. It is a comedy completely about sex, using dating as the platform for nearly nonstop innuendos, cliches, puns, sight gags and fan service. Again, it is a cartoon but it is made for actual adults.
The second thing I thought that was very important, was that the episodes 1-10 were very funny (especially the earlier ones before too much character development) but the OVA was not funny, not one bit. It was awful. I don't think unwanted nonconsensual bondage and unwanted forced participation in sexual type "activity" is humourous in anyway at all. Really, I have no comprehension as to why this final piece was put on the Blu-ray. Okay, sure I do, to make sales, unfortunately. It was perfectly fine to end it at episode 10, at that point it appears they were already having trouble with keeping up the comedy and resorted to obvious food/anatomy comparison. Still fine enough, and a good place to end. Unfortunately, the OVA kind of soured me on the series which is a shame. So my recommendation is to skip the OVA and enjoy the adult comedy for what it is and should be
The elements of the show seems to all work together. The characters were either ones you could connect with or necessary for the comedic element. Most of the situations were good set ups for the comedy routines. Visually it is bright and well animated. The scenery and props added to the whole. It is another layer to check out things that might be lurking in the background.
I watched some in Japanese and some English audio. I found it funnier in English, although the guy, Haruka's verbal expressions for the situations he finds himself in are better in Japanese.
So, it is a comedy, fan service and more. The humor is for adults and it works. It was funny, even funnier to watch with a date. Plenty of laugh out loud moments. So, hey, that is what a comedy should be.
Overall Grade: A- For Episodes 1-10, D if you include the OVA See commentary for explaination.