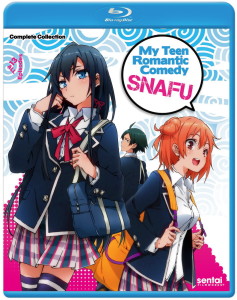 review provided by Katie and Andrew
Title: My Teen Romantic Comedy SNAFU: The Complete Collection
Director: Ai Yoshimura
Studio: Brian's Base
Author: Shotaro Suga
U.S. Distributor: Sentai Filmworks, Section 23
U.S. Release Date: September 1, 2015
Format and Length: Blu-ray / 13 Episodes / 325 Minutes
Genre: Comedy, Romance, School
Industry Age Rating: 14 and up
Overall Personal Rating: B+
Similar Series or Titles to Check Out: The Pet Girl of Sakurasou, WataMote: No Matter How I Look At It, It's You Guys' Fault I'm Unpopular, Haganai, and Haganai: NEXT
Synopsis:
Caution! Opposites may attract, but putting them together may result in chemical burns, electric shocks, and explosions. Enter Hachiman Hikigaya, a pessimistic high school student with no friends and absolutely no interest in making any, and the firm belief that everyone else's cherished high school experiences are either delusions or outright lies. Hachiman finds himself forcibly coerced by his well-meaning student advisor into joining the one member Service Club. There he encounters club founder Yukino Yukinoshita, a smart, attractive, walking superiority complex who looks down on the entire student body.
These two negative personalities are quick to attract Yui Yuigahama, who's cute, bright, cheerful, and needs the Service Club's help to… bake cookies as she should not be allowed in a kitchen by herself. Is this a recipe for romance or the precursor for a nuclear meltdown? Will there be cookies or a reason for everyone to play hooky? Get ready for rom-com gone totally wrong as the three members of the Service Club is unleashed on the unsuspecting student body!
Commentary:
My Teen Romantic Comedy SNAFU: The Complete Collection is the opposite of a rom-com but at the same time it is one as well it just depends on the episode. My Teen Romantic Comedy SNAFU: The Complete Collection gives you a fresh and exciting spin on anime stereotypes that will leave you bawling in laughter. The storyline is mostly episodic and character-driven. The last few episodes flow together but the rest of the episodes do not need to be watched in order after the first episode.
My Teen Romantic Comedy SNAFU: The Complete Collection really gets its characters and empathizes with them, but it does not make excuses for them. The characters are wonderful and well thought-out. Hachiman Hikigaya, or Hiki, is your cynical and somewhat pessimistic lead male character and his dissections of everyday occurrences and his appreciation for the little things in life bring hilarity to the story. The way he thinks and acts changes drastically throughout the course of the show as he meets new people and learns more about how to be a friend. Yukino Yukinoshita is the incredibly cunning and calculative tsundere of the series. She and Hiki are in the same boat when referring to lack of friends because she lacks them due to her perceived perfection and elitist attitude; while Hiki lacks them for his mistrust of others and cynical behavior. It was amazing to watch them grow on each other in a way that is not very predictable, but extremely well done. Yiu Yiugahama is the air-headed and inexplicable nice member of the group and serves as the glue that sticks them together with her much needed comical outbreaks and genuine emotions.
The animators brought these characters to life and it was amazing to watch. The character designs were bright and the facial expressions added the realism to the series. The opening and closing songs were fun to listen to and were easy to sing-along with. The voice actors did a great job and helped bring the characters to life before your eyes.
Extras:
My Teen Romantic Comedy SNAFU: The Complete Collection includes clean opening and closing animations and Sentai Filmworks trailers as special features. This series was released with Japanese with English subtitles as the only language option.
Overall Grade: B+
My Teen Romantic Comedy SNAFU: The Complete Collection has made it onto my list of favorite series and I found it quite enjoyable. It is a refreshing and interesting take on the rom-com genre. I hope that there is a second season released soon so the story can be wrapped up.