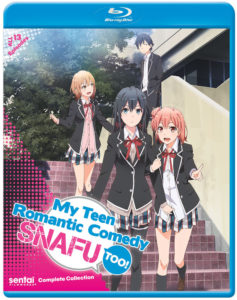 Review provided by Katie and Andrew
Title: My Teen Romantic Comedy SNAFU Too!: Complete Collection
Director: Kei Oikawa
Studio: feel.
Author: Shotaro Suga
U.S. Distributor: Sentai Filmworks, Section 23
U.S. Release Date: October 18, 2016
Format and Length: Blu-ray / 13 episodes / 325 Minutes
Genre: Comedy, Romance, School Life, Drama
Industry Age Rating: 14 and up
Overall Personal Rating: B-
Similar Series or Titles to Check Out: Haganai, Haganai: NEXT, Kokoro Connect, and Toradora!
The good, the bad, and the socially maladjusted are back!
Synopsis:
The stampede of recent events may have herded the awkward members of the Service Club into something closer to a real bonding, but the upcoming field trip to Kyoto threatens to reverse those tiny steps forward. Alongside a list of attractions to see, they will also be taking along a lot of emotional baggage, and helping others with their personal and romantic issues may just cause the entire luggage rack to collapse.
Between Hachiman's growing realization of how much he can manipulate others, Yukino's underlying battles with responsibility, and Yui's shifting needs and insecurities, the tenuous thread that holds their relationship together is more fragile than ever. Even as the path ahead is strewn with psychological traps, the feelings that each of them refuse to acknowledge may end up being the true pitfall in My Teen Romantic Comedy SNAFU Too!: Complete Collection.
Commentary:
I was so excited to hear that My Teen Romantic Comedy SNAFU Too!: Complete Collection was finally being released. I loved the first season and I was really looking forward to the conclusion that My Teen Romantic Comedy SNAFU Too!: Complete Collection would give the story. Boy was I wrong about that conclusion because Hachiman, Yukino, and Yui end up not talking about their feelings at all and instead shove them all to the side so they can just be friends. There was no plot progression, actually it crawled at a snail's pace and never really went anywhere, and the characters did not change or develop at all.
My Teen Romantic Comedy SNAFU Too!: Complete Collection starts off where the first season left off at the school festival and Hachiman's behavior is explained to some degree. Then they all go off to Kyoto and that is where all the problems for our three main characters start. Hachiman decides to go off and change the outcome of one of the club's projects and they did not care at all for how he handled it. Yukino's older sister comes back into the story and just causes all sorts of trouble and eventually brings their mother into the picture because she is worried that Yukino is just copying her older sister and not becoming her own person. That situation is what forces Yukino to set her true feelings aside and it changed her personality. Yui is just too shy to say her true feelings and instead just wants everyone to be friends and get along. She knows that cannot happen but she still pushes for it every chance she gets.
The animation changed a bit from the first season but it still looks great. The colors are bright and lively and the backgrounds do not detract from the characters. The voice actors did a great job as always. The opening and closing animations were catchy and I found myself singing along with them within a few episodes.
Extras:
My Teen Romantic Comedy SNAFU Too!: Complete Collection includes clean opening and closing animations, a special animation, and Sentai Filmworks trailers as special features. This series was released with Japanese with English subtitles as the only language option.
Overall Grade: B-
Even though I do not have much good to say about My Teen Romantic Comedy SNAFU Too!: Complete Collection I did still enjoy it and I hope they decide to make a third season so that the story can be wrapped up. A girl can always wish, right?