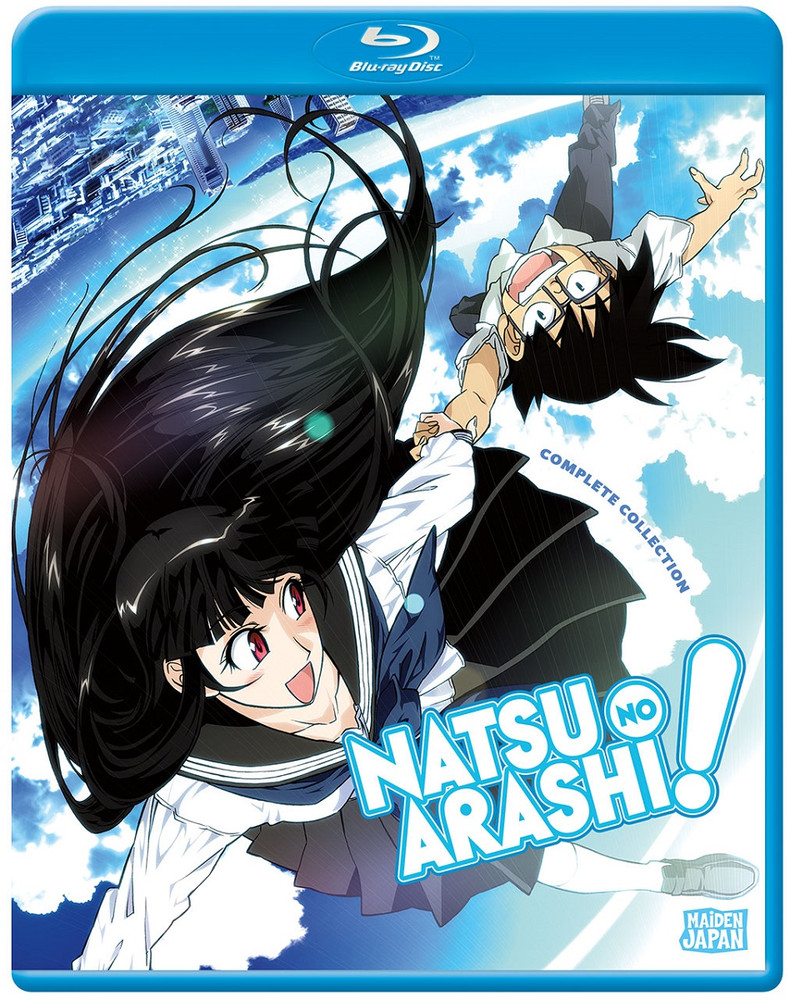 Title: Natsu no Arashi: Complete Collection
Directors: Shin Ōnuma, Akiyuki Shinbo
Writer: Katsuhiko Takayama
U. S. Distributor: Maiden Japan, Section 23
U. S. Release Date: Nov. 11th, 2019
Format: Blu-ray / 13 Episodes / 325 Minutes
Genre: Supernatural, Comedy, Romance
Age Rating: TV 14
Overall Personal Rating: B
Synopsis:
Sometimes when you meet someone, you just know they're going to be interesting, but when 13-year-old Yasaka Hajime meets an older girl while staying at his grandfather's house for summer vacation, he has no idea how much she's about to change his life!
To begin with, while Arashi may only look a few years older than Yasaka, she's actually closer in age to his granddad! How is that possible? It seems that Arashi's not exactly human anymore, and besides being a ghost from 1945, she has an important mission that revolves around her ability to travel in time! Since Arashi can only travel temporally if she's accompanied by a living being from her current present, guess who's about to become her partner in paradoxity? It's time for everything to go a little crazy in Natsu no Arashi!
Commentary:
Okay here is another sleeper anime that is slipping through the cracks of the anime world. Natsu no Arashi is a strange rather quirky series that gives you a fresh look at the age old supernatural romance comedy. Sayoko is the star of the series and it becomes easy to like her for the lively and carefree personality she brings to the story.
Of course the series revolves a 13 year old boy and I often get wrapped up in the western ideal of a 13 year old compared the easter / Japanese veiw of what it means to be 13. For us puberty is still childhood and for them it is the passage to adulthood. But still it was one of the issues I had with the series. I truly believe it would have been a much stronger story if Hajime was in Collage. It would have been much easier to accept the romantic connection between the two and the comedy could have come across stronger and a bit more biting.
Overall Grade: B
The other area that I found less attractive was the production value. The series first aired in 2009 but looks to be much older. It would have been wonder if the production would have been more timely and less aged. I also felt like the writing missed the mark a few times, but all in all Natsu no Arashi is work the time to check it out. I believe you will be slight surprised, just give it a few episodes to take hold.