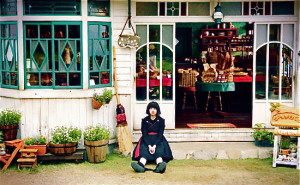 Teaser trailer, poster released
As you may or may not know (I didn't until right about now, I must admit), Hayao Miyazaki's 1989 classic Kiki's Delivery Service was not an original Ghibli story: it was based on a novel by author Eiko Kadono.
Now another group of filmmakers has taken a stab at the material. A live-action version ofKiki's Delivery Service is set to be released in March of 2014.
The new films stars Fuka Koshiba, a young star known for her work in the Japanese drama series Breathless Summer, as Kiki. The script was written by Satoko Okudera, who also wrote the Mamoru Hosoda films Summer Wars and Wolf Children.
Apparently the film will not be a continuation of the Ghibli classic: it'll retell the original Kikistory from a live-action perspective. Will it recapture the magic of the anime classic? We shall see.
This isn't the first time something like this has happened, actually. Ghibli's Grave of the Fireflies, adapted from a semi-autobiographical novel of the same name by Akiyuki Nosaka, was made into a live-action TV drama in 2005.