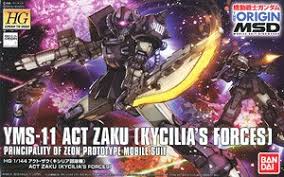 Gundam Build Competition
Animeggroll is proud to announce our April 7th,2018 Act Zaku build competition. Just like past competitions, competitors will will have 4 hours to build and customize a pre selected model kit. The kit for this build competition is new Origin  Act Zaku model kit. Each builder will be provided with a  Act Zaku at the time of the competition. 
As in other builds each competitor will be provided with a working space of 1.5 X 3 feet. Anything being used in the build must fit in that space. Judging for this build will be done by a independent group of judges. Each Judge will select their favorite build based on their own set of requirements. Each winner will awarded with a prize. The only restriction is no spray painting.
Date: Saturday April 7th, 2018
Entry Fee: $15.00
Start Time: 2:00 PM
Registration Open Date: Tue. March 6th, 2017
Registration Deadline: Thurs. April 5th, 2018
Number Builder Slots: 24