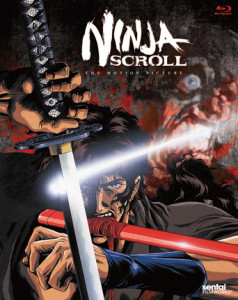 Title: Ninja Scroll: The Motion Picture
Director: Yoshiaki Kawajiri
Studio: Madhouse
U. S. Distributor: Sentai Filmworks, Section 23
U. S. Re-release Date: May 19th, 2015
Format: Blu-ray / 94 minutes / Feature Film
Genre: Action, Adventure, Edo Period, Historical
Age Rating: TV MA
Overall Personal Rating: B+
Synopsis:
Jubei Kibagami has always been the master dealer of death, but in rescuing a ninja woman from a monster he sets loose a chain of events that puts death in his own veins and sends them on a nightmarish odyssey through a surreal and devil infested ancient Japan. How do demonic possessions, an annihilated village, and a man Jubei thought safely buried in his past all connect? If Jubei can't piece the blood-soaked clues together, his only consolation will be that he won't live to regret it for very long!
Commentary:
Some films and series keep finding their way back into the spotlight  and consistently are begin resurrected just to try and make some more money. In the case of Ninja Scroll saw it most recent reincarnation in December of 2012 when it was re-released on DVD and now Sentai Filmworks has moved it onto Blu-ray. I know that I've seen plenty of older series and movies reproduced on Blu-ray and I am constantly stumped as to what difference it makes. For Ninja Scroll I see a little improvement in color and brightness, but overall I can't say it is a hit for me. I almost like it on the original Manga Entertainment VHS version just because a gritty look to the film adds to its mystic.
Overall Grade: B+
I know that Ninja Scroll is a anime classic and the one thing that stands out is the action and battles. The simplistic violence that is presented comments on how cruel that time period was. The only thing that really makes a difference for me is the blatant simplicity these films and stories were created and written in the 80's and 90's. They thought that they were presenting some deep commentary, but in fact were playing to the basic fan base of the single males audience and gave us plenty of violence and sex to keep the viewer interested. I have a feeling that if they were to make it any more complicated they would have lost their audience and it wasn't until later in the decade that it was discovered that deeper reflection or complicated plot lines really do make a difference.
Ninja Scroll is wonderfully animated and the action scenes are phenomenal but the plot is simple and only slightly interesting. I'm not sure how this latest iteration of the film is going to go over. I suspect that it will only be a item for the collector who wants to own it on blu-ray. I can't say that the high definition doesn't really make the film any better.