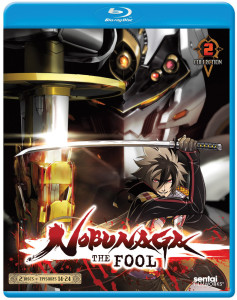 Title: Nobunaga The Fool: Collection 2 on Blu-ray
Director: Eiichi Sato
Writer: Shoji Kawamori
Studio: Satelight
U. S. Distributor: Sentai Filmworks, Section 23
U. S. Release Date: September 29, 2015
Format: Blu-ray / 11 episodes / 275 minutes
Genre: Mecha, Action, Drama, Romance
Age Rating: TV 14
Overall Personal Rating: B
Synopsis:
As the ley-lines of the Western Star near the point of collapse, the threat of invasion continues to escalate. Fearing attack from their sister world, the Eastern Star braces for the eruption of full-scale interstellar war. Meanwhile, betrayal follows betrayal as the factions seeking the Holy Grail continue to turn on each other. The Table is shattered and with Jeanne in the clutches of Cesar Borgia and Machiavelli, the seer seems destined for torture and burning at the stake. Will history repeat itself or will Nobu be able to pull off a daring rescue? King Arthur's horrifying plan comes to fruition and the fates of two planets depend on the actions of one man!
Commentary:
In the year of Nobunaga some of the series paying homage to the infamous Japanese warlord who aimed to unite Japan. Nobunaga the Fool does a great job of telling the story of Nobunaga in a fanciful mecha world where the historical warrior of the western past meet the historical warriors of the Japanese past. Of course there is plenty of rewriting of the characters to make them more interesting, but I'm not complaining.
The one area that I felt was missing from the second half of the series was the simplistic persona of Nobunaga. He became much more serious and introspective which ended up loosing some of the charm. The story manages to keep moving forward and we do finally get to the big event, but getting there just isn't as well put together as the first 13 episodes were.
Overall Grade: B
Nobunaga the Fool as a single series does a great job of blending the history with fantasy and keeping some of the historical realities with the characters even if the story doesn't really stay in the same universe.
The animation is classic for a mecha and the overall quality makes it very easy to watch the series without any cringe worthy moments. I did think it too a little too long to develop a few of the characters. I guess that the last two despises managed to save the series for me and remind me that this is truly a product of japan not a Japanese story adapted by the North American entertainment industry.
If you are looking for a solid Mecha anime that blends the past with pure fantasy then Nobunaga the Fool is something that you will enjoy for what it is.