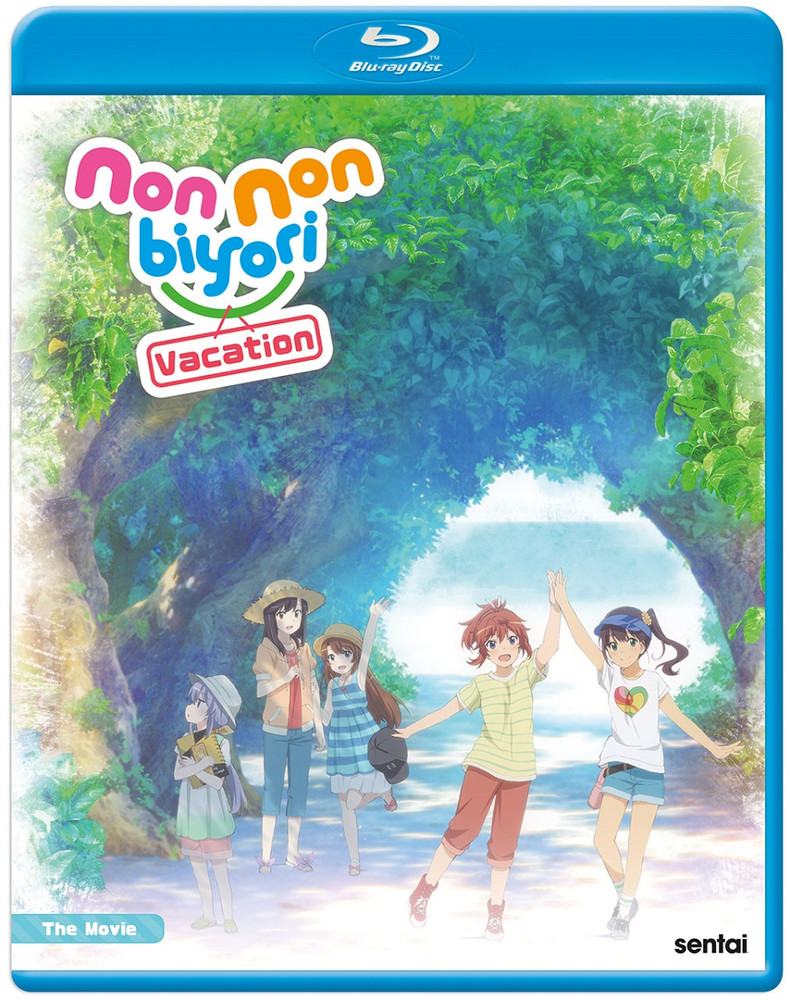 Title: Non Non Biyori Vacation
Director: Shinya Kawatsura
US Publisher: Sentai Filmworks
US Release Date: 06/09/20
Format: Blu-ray/ Movie/ 71 minutes
Genre: Comedy
Age Rating: TV PG
Overall Personal Rating: B+
Synopsis
The small farming community of Asahigaoka is the idyllic countryside. It is summer vacation from the tiny school the children attend. There is only a handful of grade school kids. All good friends, they live a slower pace of life soaking up sun and nature, exploring their place in the world. They are keeping busy hanging out with each other but when chance comes along to to visit the mall in a nearby town, the little circle of friends manipulate a chance to go along. There, to everyone's surprise and delight, Suguru wins a free 3 day trip to Okinawa. That's what this movie is really about.
All the students, their teacher and the candy shop owner as a second chaperone, take an airplane to the island. They are staying at a family run inn with the traditional charms of Japan. Natsumi makes good friends with the daughter who is her age. More active than life at home, the group goes swimming, kayaking and more as they try to squeeze it all in before they run out of time.
Commentary
Non Non Biyori is a stand alone movie that is a companion to the series which is currently 2 seasons, but I hear another is on the way. The series it not about anything particular, just the kids doing everyday kid things and learning about life. The audio is in Japanese and has English subtitles, a bit of a bummer because it will limit the age of the audience in the US. I know a wider audience could have appreciated the franchise.
The Vacation movie has nearly the same feel as the series with a small difference. Not quite so much a relaxed sliced of life, it is a vacation event with more structure and without the luxury of time. The main focus is definitely the youthful friendships between the girls. The characters are very relatable and Renge, the youngest is really cute and easily brightens any scene.
The setting is still just as beautiful evoking the connection. The colors are bright, the countryside is lush and verdant with the same attention to Okinawa. I especially love the depiction of clouds and water. It doesn't stop there, the same skill gives us the sound of summer as well.
I enjoyed the movie just as much as the series. If you are looking for peace and cute, this is it.
Overall Grade B +
It all kinds of relaxing fun and very cute.