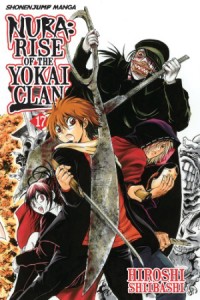 Title: Nura: Rise of the Yokai Clan volume 17
Creator: Hiroshi Shibashi
U. S. Distributor: Viz Media / Shonen Jump
U. S. Release Date: October 1st, 2013
Format: Manga / Paper Back / 192 pages
Genre: Supernatural, Action, Shonen
Age Rating: T for Teen
Overall Personal Rating: B
Synopsis:
While the day belongs to humans, the night belongs to yokai, supernatural creatures that thrive on human fear. Caught between these worlds is Rikuo Nura. He's three-quarters human, but his grandfather is none other than Nurarihyon, the supreme commander of the Nura clan, a powerful yokai consortium. So, Rikuo is an ordinary teenager three quarters of the time, until his yokai blood awakens. Then Rikuo transforms into the future leader of the Nura clan, leading a hundred demons!
Volume 17 of Nura: Rise of the Yokai Clan revolves around two separate stories. Caught in The Ripper's scissors-hold, Rikuo faces off against this terrifying enemy whose Fear feeds on the pain of children. Nura does his best to discover and thwart the evil Yokai and at the same time release the souls of his victims.
Speaking of eating, brother and sister team Ryuji and Yura travel to the worst tourist destination ever, the Village That Devours People! Together they manage to discover if this urban legend is true or false and in doing so manage to make a few fans in the process.
Even though these two stories do not seem to connect is there something about them that binds them in a way that just might bring forth an old rivalry for the Nura Clan? If so what will come next?
Commentary:
Most of my roots in the world of the Yokai tend to flow back to the classic Manga Mushi Shi which is a real stand out for me, but in the case of Nura: Rise of the Yokai Clan I see its much more populist approach and that it give plenty of action and fun but also carries a certain reverence for the supernatural. In volume 17 it seems to focus on the fears of humans and how our own fears end up creating and sustaining the monsters that we both are drawn to and repulsed from. Both stories show a very dark side of the Yokai and at the same time play right back into the weakness of humans and their inability to not become prey to their own demons.
I know that the underlying connection between both of these stories is really at the center of the plot for the series, but I liked the way that each story was rather self contained. There is still plenty of overarching plot development and at the same time the story in front of you manages to take center stage. All to often these shonen end up getting lost in either the overall plot or forget about it all together. This was a breath of fresh air and possibly the strongest aspect of the entire volume.
The one area of weakness that I came across was the way in which Ryuji and Yura come across in the Village That Devours People. They both ended up looking rather silly at times and Ryuji ends up being more of a sap than the strong heroin that she really is. I wish that she would have been give more common sense. Yura ends up coming across as a punk and more of a manipulator than a hero. I know that it is sometimes the important to give us an anti hero, but this time Yura is just a punk who ends up looking cool.
Overall Grade: B
Honestly, I like this series and am looking forward to volume 18. This volume would have scored much higher if Ryuji and Yura had not come across so poorly. The first story , The Ripper, came off rather well and kept me interested the entire way. There is also the underlying connection between the two which opens up plenty of possibilities and also places more doubt on Nura's rightful place and his powers. It sure is headed in the right direction and I have a feeling there will be plenty of more excitement to come. If you are looking for some action and a little supernatural fun then this is the series for you.