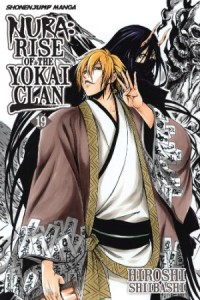 Title: Nura: Rise of the Yokai Clan volume 19
Creator: Hiroshi Shibashi
U. S. Distributor: Viz Media / Shonen Jump
U. S. Release Date: Feb. 4th, 2014
Format: Manga / Paper Back / 192 pages
Genre: Supernatural, Action, Shonen
Age Rating: T for Teen
Overall Personal Rating: B+
Synopsis:
Rihan and Kurotabo join forces in decadent Edo Period Japan, forming an otherworldly bond in order to vanquish their enemy. Little do they know that the Hundred Stories clan and its leader – the dreadful, dismembered Sanmoto – are far from defeated! Back in the present, a yokai named Kudan is spreading rumors that Rikuo is bent on world destruction and must be stopped by any means!
Rikuo is now between a rock and a hard place and must decide to either save humans or save himself. At first his clan tries to stand in his way in order to protect his identity, but the real test comes when humans begin to die and he is faced with the ultimate decision. What will he do and will his clan be able to help save him from himself?
Commentary:
Again Nura proves to be a worthy read. The weaving of the past and the present is done very well. All to often these kind of arcs end up being lost in the minutia of the past, but in this case the past and what is told about it is very relevant and if anything there could have been a little more information provided. Hiroshi Shiibashi manages to keep this series very much alive and active. With the reemergence of the 100 stories clan the level of  action is really well developed and at the same time the story continues to move forward. In many of the other similar shonen series they tend to get bogged down on the battle itself and much of the action is lost in the details. In other words it is easy to get lost in what is really going on. Nura provides strong artwork and properly paced action to keep everything progressing and very clear for the reader to follow.
Volume 19 is setting us up for a final battle that will not only give us what we want but also prove to be something very special to read. We have 6 more volumes to the finally and I personally am very ready to get there. I think we are in for a great ride and feel as though volume 20 will prove to be critical for the series to be able to bring all the elements together.
Overall Grade: B+
I am very surprised that Nura: Rise of the Yokai Clan hasn't found itself standing next to other big shonen series like Bleach or Naruto. I find it to be a stronger story and that characters manage to be richer and better developed. I don't feel like Rikuo is one dimensional like Ichigo or even Naruto and that many of the secondary characters come across as unique and worth learning more about. The Story itself is a nice supernatural tale of a yokai / human and how they both need each other to exist. Anyone looking for a great supernatural story should pick this one up. I know you will be glad you did.