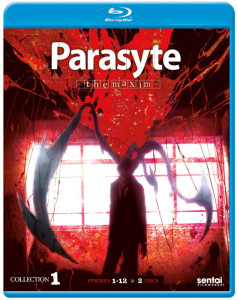 Title: Parasyte the Maxim Collection 1 on blu-ray
Director: Kenichi Shimizu
Creator: Hitoshi Iwaaki
Screenplay: Shoji Yonemura
Music: Ken Arai
Studio: Madhouse
U. S Distributor: Sentai Filmworks, Section 23
U. S. Release Date: April 4th, 2016
Format: Blu-ray / 12 Episodes / 300 Minutes
Genre: Thriller, Sci Fi, Drama
Age Rating: TV MA
Overall Personal Rating: B+
Synopsis: 
It's the ultimate nightmare. One minute Shinichi Izumi is a normal teenager asleep in his bed. The next he's been infected with a deadly parasitic organism determined to devour his brain and turn his body into the planet Earth's new apex predator.
But Shinichi partially foils the attack and, instead of being consumed, finds that the creature known as Migi has taken the place of his right hand. Now forced to share the same body, the two must become unwilling allies. Migi isn't the only one of his kind, and unless human and parasyte work together, they'll both be killed as abominations. Prepare yourself for a horrifying new world where the survival of the fittest and the survival of the human race are no longer the same thing. Monsters lurk behind every corner and every face as the human race becomes prey in Parasyte ~ the maxim!
Commentary:
Brace yourself, this is not the bloody horror story that cover art would leave you to believe. It is in fact a story of human and alien integration and a battle for survival. Parasyte the Maxim is a serious drama with plenty of blood, but it is more of a conversation of how to coexist rather than destruction. That in itself saves the series from a sorry death of over the top cut up festival. I admit there is plenty of useless slaughtering of people and plenty of dark moments that feel like pure violence for spectacle sake.
Parasyte the Maxim does a very good job of telling this story and the real strength is in the growth and development of Shinichi and how he deals with his changing body. I found his character to be easy to feel some sympathy toward and also have a little dislike for the way he often became a weak kneed young man. The real drama came from the dilemma about taking another life and how Shinichi deals with it. With the focal point being on this dilemma it become a little redundant, but Shinichi is given enough struggles to overcome to make the series move at a decent pace.
Overall Grade: B+
Parasyte the Maxim manages to over come the easy trap of being just another slasher series and gives us a series to with some thoughtful drama. There is a slight tenancy to make Shinichi a tad weak but they keep him strong enough to push the series forward. Parasyte the Maxim is a sold drama that doesn't play up the gross blood fest that it could be. I am very interested to see collection 2 and wonder if he manages to save his life and the life of the alien life form that is living in him.