Title: Parasyte the Maxim Collection 2 blu-ray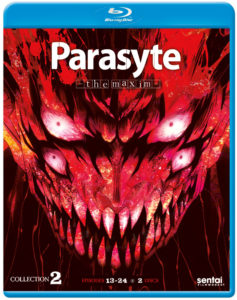 Director: Kenichi Shimizu
Creator: Hitoshi Iwaaki
Screenplay: Shoji Yonemura
Music: Ken Arai
Studio: Madhouse
U. S Distributor: Sentai Filmworks, Section 23
U. S. Release Date: April 4th, 2016
Format: Blu-ray / 12 Episodes / 300 Minutes
Genre: Thriller, Sci Fi, Drama
Age Rating: TV MA
Overall Personal Rating: A-
Synopsis:
They seem like the perfect killing machines: taking the form of their latest victim as they move on to hunt their next meal, blending invisibly into chaos of human civilization.
But as the human race becomes aware of the invaders, the rules unexpectedly change. Because, while the predators may be far more deadly individually, human beings hunt in packs… and no species in the universe has spent more time perfecting new ways to kill than man.
As the military secretly mobilizes and a shadow war erupts, Shinichi and Migi find themselves trapped in the escalating purge. Born from a merging of both sides and yet belonging to neither, the best they can do is merely hope to survive as the lines between friend and foe cease to exist.
The war between the planet's two apex species spills into the streets as human sheep reveal the wolves hidden inside in the apocalyptic second collection of PARASYTE- THE MAXIM!
Commentary:
Parasyte the Maxim does something that reminded me of why I enjoy anime and much of the Japanese culture. It manages to turn this dark story into a lesson in Buddhism. Particularly a lesson in Zen Buddhism. The concept that all life is precious and that humanity has a very narrow view of the world hit home. The odd awareness that Migi goes through is poignant and the awakening that Shinichi experiences is something to be jealous of.
The series did fall back on some rather weak plot line legs that allowed it to slow down and begin to shift focus from a crazy blood lust of season one to a understanding that defines the dichotomy that is humanity. This change over manages to make the series a little less pop culture and I think this is also where it lost a large number of fans. For me, it is where it became stronger and defined itself as a series that had something to say.
Overall Grade: A-
Parasyte the Maxim collection 2 is a hit in my book, I am just afraid that it might loose some of its fan base because it was not as splattery as collection one and there just isn't the body count that the Parasyte started with. This simple fact gained some respect from me, I feel like anime that makes it over to North America has become too pigeon hold and teed to only offer some of the worst of the art form.
The animation quality of Parasyte is of average quality and is classic Madhouse work. The english voice acting was fine, I can't say that it made me notice any weakness or strength. Overall, it is simply the emphasis on the plot and change in dialog the series focused on that made the difference for me.
If you are looking for a series that showcases a true Japanese cultural viewpoint the you should pick Parasyte the Maxim up!