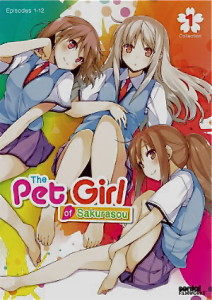 review provided by Katie and Andrew
Title: Pet Girl of Sakurasou: Collection 1
Director: Atsuko Ishizuka
Studio: J.C. Staff
Author: Hajime Kamoshida
U.S. Distributor: Sentai Filmworks
U.S. Release Date: December 17, 2013
Format and Length: DVD / 12 Episodes / 300 Minutes
Genre: Comedy, Drama, Romance, School Life
Industry Age Rating: 14 and up
Overall Personal Rating: B+
Similar Series or Titles to Check Out: Toradora!, Honey and Clover, and Ai Yori Aoshi
Synopsis:
Sorata Kanda's life has gone to the cats since he was banished from the normal dorms for adopting stray cats. Now he has been placed in Room 101 in Sakura Hall, the notorious dorm full of troublemakers, geniuses, and weirdos that is affiliated with Suimei University of the Arts, or Suiko as it is also known. Sorata is eventually charged with caring for Mashiro Shiina, his teacher's cousin, because she is so unfocused and dysfunctional that she needs a full-time keeper to survive day-to-day life as she studies to become a manga artist. No one else will step up and care for her and now he is stuck with Mashiro-duty 24/7. Hilarity ensues once Mashiro meets the other residents of Sakura Hall. Hopefully, Mashiro will learn to care for herself but you will have to watch Pet Girl of Sakurasou: Collection 1 to find out.
Commentary:
Pet Girl of Sakurasou: Collection 1 surprised me because I really did not like the beginning of episode one but I gave it time and eventually everything came together and made sense. This truly is a "do not judge a book by its cover" anime because you do not expect what happens to actually happen. Pet Girl of Sakurasou breathes fresh life into the romantic comedy genre because it brings a sense of realism and slice-of-life aspects that turn it into a wonderful drama. It will rope you in once you get past the first half of episode one. I also liked that there was not a lot of fan-service; sure there is some but you have to expect it since a high school girl needs a caretaker.
Twelve episodes in, I believe that the character development is pretty good. Sorata is your normal male lead type for romantic comedies but his character gets more depth as the series goes on. Of course, he is very mature from the start but he finally sees what he wants to do with his life half way through this collection. The rest of the residents of Sakura Hall include Misaki Kamiigusa, who draws anime and manga, Jin Mitaka, the resident playboy, Nanami Aoyama, a voice actress in training, Ryuunosuke Akasaka, an expert computer programmer and hermit, and Chihiro Sengoku, a teacher at the school who oversees the students at the dorm. Mashiro Shiina is a world famous artist who transferred into Suiko to learn how to draw manga and eventually publish her manga and have it be a success. She is so focused on her art that she cannot even pick out her own clothing to wear for the day. As you can see, Pet Girl of Sakurasou offers a large and diverse, albeit cliché cast that provides much humor.
The storyline moves smoothly through each episode and the pace is spot on, it is not too fast or too slow. It really is the 'Goldilocks' of anime. However, the setting for Pet Girl of Sakurasou is not the typical setting such as a group of friends or an after-school club. Instead, everyone lives in the same dorm and each has their own set of friends and hobbies. I love how Pet Girl of Sakurasou shows evolution of the friendship between the dorm-mates and them working together to put on a show for the Cultural Fair at school. It seems as if they are turning into a real family. The opening and closing songs were catchy and well done. I found myself humming along with the music by episode five. The rest of the music was also wonderful. The voice acting was spot on and well delivered to the audience. The art was well drawn and brought Mashiro's manga to life. Plus there were chibi's and those are always so cute and funny.
Extras:
Pet Girl of Sakurasou: Collection 1 has Japanese Promos, Japanese TV Spots, Extended Episode Previews, Japanese Premier Event, Clean Opening and Closing Animation, and Sentai trailers as special features. The audio is in Japanese with English Subtitles.
Overall Grade: B+
Pet Girl of Sakurasou has the makings to be a wonderful series if things continue like they are into the second collection. I can really see lots of potential for a second season because the characters are far too shy for the romance part to be wrapped up in another twelve episodes.
"In The Radius":
If you enjoyed watching either Toradora!, Honey and Clover, or Ai Yori Aoshi then you will more than likely enjoy Pet Girl of Sakurasou: Collection 1.