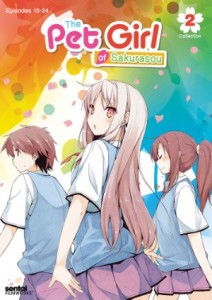 Review provided by Katie
Title: Pet Girl of Sakurasou: Collection 2
Director: Atsuko Ishizuka
Studio: J.C. Staff
Author: Hajime Kamoshida
U.S. Distributor: Sentai Filmworks / Section 23
U.S. Release Date: March 11, 2014
Format and Length: Blu-ray / 12 Episodes / 300 Minutes
Genre: Drama, Romance, Comedy, School Life
Industry Age Rating: 14 and up
Overall Personal Rating: A-
Similar Series or Titles to Check Out: Toradora!, Honey and Clover, and Ai Yori Aoshi
Synopsis:
Sorata Kanada never really had a choice when his teacher, Chihiro, told him to watch over her niece, Mashiro Shiina. Sorata was tasked with keeping the highly acclaimed but dysfunctional and unfocused artist Mashiro from forgetting to eat, brushing her hair, and wearing all the clothing required to leave the house. It has been a long, slow battle but he has reached a point where he has a general understanding of her quirks and accepts the fact that Mashiro will walk out of the dorm half-naked.
Unfortunately, the rest of the students living in Sakura Hall are not doing as well understanding the opposite sex. Misaki does not understand why Jin decides to keep her in the dark about his feelings, Nanami cannot tell Sorata about her feelings and Ryuunosuke just does not understand Rita, just to name a few of the problems they face. To add to these problems, Sorata still has his problem of picking up cats and keeping them instead of adopting them out to other people. Will the students be able to work through their problems with the opposite sex or will they rule their lives forever? Will the students be able to save Sakura Hall from getting torn down? You will have to watch Pet Girl of Sakurasou: Collection 2 and find out for yourself.
Commentary:
I went into watching Pet Girl of Sakurasou: Collection 2 with low expectations because I did not think I would like how they wrapped up the romantic issues between the characters. Boy was I wrong. I loved this anime and I am now pushing my husband to watch it because usually if I love an anime he will love it as well. By the middle of episode 23 I was sitting on the edge of my seat and by the end of that episode I was crying. The story line really exploded in the second collection and moved at a good pace. The characters had more development and back story as well.
I really loved the interaction between Nanami and Sorata in these episodes. Nanami is coming to terms with the fact that she loves Sorata but at the same time she also realizes that Sorata loves Mashiro. So then she accepts the fact that she is just really the third reel in that equation. Sorata realizes that he feels insecure around Mashiro because she is an accomplished artist and he cannot get a video game that he designed to pass the company's review board. But he overcomes that and realizes that he actually cares for Mashiro. We also learn why Ryuunosuke acts how he does. Then you have the undecided couple, Misaki and Jin, and all the hilarity that follows them.
I love how Pet Girl of Sakurasou shows evolution of the friendship between the dorm-mates and them working together to save Sakura Hall from getting torn down. I loved how the characters worked together to keep their home safe and learned more about each other in the process. By the end of the series, you can tell that the residents of Sakura Hall are a family and really care for each other.  The opening and closing songs were catchy and well done. I found myself humming along with the music by episode five. The rest of the music was also wonderful. The voice acting was spot on and well delivered to the audience. The art was well drawn and brought Mashiro's manga to life. Plus there were chibi's and those are always so cute and funny.
Extras:
Pet Girl of Sakurasou: Collection 2 includes Japanese CD spots, clean opening and closing animations, and Sentai Filmworks trailers as special features.
Overall Grade: A-
Hajime Kamoshida wrote an amazing anime that I really enjoyed; although, episode 24 almost looked like an ad for a second season of Pet Girl of Sakurasou. It would be awesome if a second season is released, but I am happy with how the story line ended. Overall, I give both collections an A- and I recommend this anime to anyone who loves romantic comedies or school dramas.
Similar Titles:
If you enjoyed watching either Toradora!, Honey and Clover, or Ai Yori Aoshi then you will more than likely enjoy Pet Girl of Sakurasou: Collection 1 or Pet Girl of Sakurasou: Collection 2.