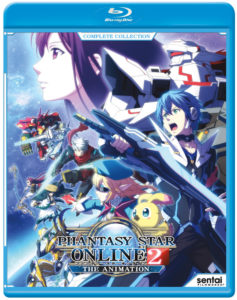 Title: Phantasy Star Online 2 The Animation: Complete Collection on Blu-ray
Director: Keiichiro Kawaguchi
Studio: Telecom Animation Film
U. S. Distributor: Sentai Filmworks, Section 23
U. S. Release Date: March 7th, 2017
Format: Blu-ray / 12 Episodes / 300 Minutes
Genre: Gaming, Harem, Comedy, Fantasy
Age Rating: TV 14
Overall Personal Rating: B-
Synopsis:
Phantasy Star Online 2 is the most popular game on the web, and almost everyone at Seiga Academy is deeply immersed in it. When the school administration begins to worry that the game is causing more harm than good, student council president Rina Izumi sets out to prove PSO2's virtual positives. To confirm her opinion, she recruits Itsuki Tachibana, one of the few students who isn't already hooked, and instructs him to learn how to play so she can study the effects.
What at first seems like a brilliant and simple plan instead lifts the lid off a Pandora's Box filled with unexpected complications. As Itsuki's life undergoes a rapid transformation, it soon becomes clear that PSO2 may be much more than merely a game! In fact, a whole new world waits on the other side of the net!
Commentary:
Once again the popularity of a game pushes creators to make an anime for the chance to make more money. Phantasy Star Online 2 helps to prove the point that the game is always better, at least I would hope so.
The formula is simple one. Take a popular game and put in a school setting where we have the student council wanting to promote the positive aspects of a game and at the same time there is the romantic comedy and harem genres mixed in. I think that there is something wrong with the anime ideal when the main protagonist is on small step from being a simpleton and at the same time has the intuitiveness of a savant. He can read people for who they are but can't ready a persons interest or intent when it comes to a romantic situation.
Overall Grade: B-
Phantasy Star Online 2 is not terrible or a total loss. The plot line is straight forward and somewhat entertaining. I am very glad it didn't go past 12 episodes and fully understand why Sentai Filmworks didn't provide a english dub.
I honestly liked most of the characters and thought that the simplistic development around their stores was sound and plenty for the short series. I guess that I would have like some deeper development of a couple of the main characters but it was fine for what it was.
If you are a gamer who like Phantasy Star Online 2 and want a little fun eye candy to go along with the game then I doubt if you will be disappointed. If you are looking for a series that brings home a solid plot and gives you a closer look into the world of gaming with an anime twist then maybe you should sit this one out.
Bottom line, if you are looking for some simple fun at a typical high school then Phantasy Star Online 2 is for you.