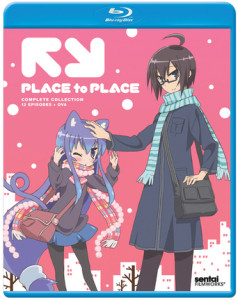 review provided by Katie and Andrew
Title: Place to Place: Blu-Ray Complete Collection
Director: Fumitoshi Oizaki
Studio: AIC
Author: Ishiki
U.S. Distributor: Sentai Filmworks, Section 23
U.S. Release Date: March 24, 2015
Format and Length: Blu-Ray / 13 Episodes / 325 Minutes
Genre: Romance, Comedy, School, Slice of Life
Industry Age Rating: TV-14 14 and up
Overall Personal Rating: A+
Similar Series or Titles to Check Out: Lucky Star, Hidamari Sketch, K-On!, Toradora!
What happens when you are more than just friends, but not quite in a relationship?
Synopsis:
We all had a circle of friends that we hung out with in high school, but within that group, there were smaller groups of friends. Place to Place is about that smaller group of friends, best friends, and even boyfriends and girlfriends. At times, relationships just develop when you least expect them and with the person you want the most. That is the little problem Tsukimi has when it comes to Io.
Io is as tall and laidback, while Tsukimi is short and tsundere. However, Io is completely clueless to Tsukimi's feelings, yet he is too affectionate and that is just confusing and irritating. The rest of their friends are not much help at all, as it usually gives them another reason to tease Tsukimi. Are Tsukimi and Io just best friends or is it worth risking their friendship for what Tsukimi wants? You will have to watch Place to Place to find out.
Commentary:
Place to Place is like a box of chocolates, you never know what you are going to get when the episode begins. The comedy is new and fresh, and the romance is so adorable that you will possibly die from potential blood loss coming out of your nose. Place to Place is a true slice-of-life anime as there is really no plot. You are watching a story that revolves around a group of five high school friends participating in hilarious everyday activities and you also are watching Io's and Tsukimi's relationship grow with each episode. Each episode is broken into two parts, Part A and Part B. They may follow the same plot line or the second part could go into a completely different direction. You could watch this series completely out of order and not miss any important plot points. Nevertheless, I would recommend watching in order to get the most cuteness out of Tsukimi.
I must say that the characters are the strongest part of Place to Place. Tsukimi is a small, quiet catlike tsundere. However, she has that cool and collective attitude that the boys go crazy for and that makes her more than the average tsundere. Tsukimi can beat the boys at video games, yet has a feminine side. She actually sprouts cat ears when she was embarrassed or happy! She is in love with the unobservant Io, a boy who is quietly romantic. That makes all the girls crazy for him. The rest of their close group of friends includes Hime, Sakaki, and Mayoi. Hime is a clumsy, whimsical, and shy girl. Her shyness really comes out when she is interested in the opposite sex. Sakaki is the other boy in this group of friends. He usually speaks without thinking and that leads to some painful experiences for him. Mayoi is the final friend and her ideas usually cause trouble for the rest of the group.
The characters were drawn very well and have something special about them. Some of the characters looked really similar to those in Lucky Star. The backgrounds were well drawn and very creative, yet the overall theme of the animation is very simple. That was very refreshing. The arrow themed title cards are too cute and make a great transition between Part A and Part B of the episode. The opening song and closing song are both very fitting for this anime, slightly weird but still catchy.
I would recommend Place to Place if you are looking for a light-hearted anime to watch with a group of friends. I would even recommend this as a good introduction into the slice-of-life genre or even anime in general. Lucky Star, Hidamari Sketch, K-On!, Toradora! are all wonderful Slice of Life animes. I would recommend Place to Place if you have enjoyed any of these animes or if you are just looking to watch a cute anime.
Extras:
The special features for Place to Place include clean opening and closing animations and Sentai trailers.
Overall Grade: A+
I loved Place to Place. It reminds me of Lucky Star but with romance. I would recommend Place to Place to anyone and everyone because it is a light-hearted anime and it is just too fun to watch.