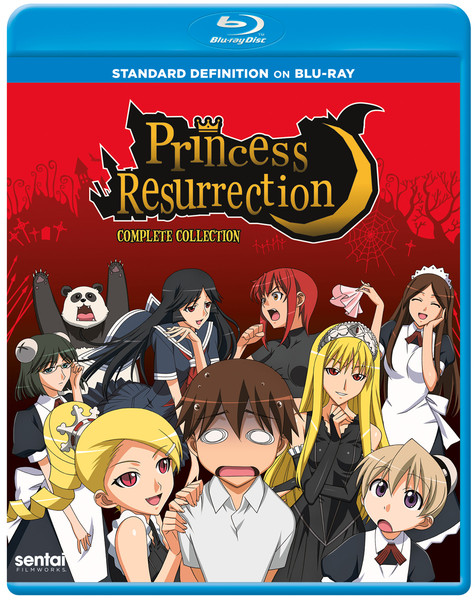 Title: Princess Resurrection: Complete Collection on Blu-ray
Director: Masayuki Sakoi
Studio: Madhouse
U. S. Distributor: Sentai Filmworks, Section 23
U. S. Release Date: April 9th, 2019
Format: Blu-ray / 650 Minutes / 25 Episodes + OVA
Genre: Comedy, Supernatural, Harem
Age Rating: PG
Overall Personal Rating: B+
Synopsis:
Princess Resurrection the Complete Collection contains episodes 1-25 of the anime directed by Masayuki Sakoi plus the OVA: Princess Comatose in standard definition on a blu-ray disc.
When Hiro Hiyorimi tries to save a beautiful young woman from certain death, he ends up a dead hero himself! However, since the drop-dead girl is Princess Hime, daughter of the King of the Monsters, his "reward" is to come back as a not-quite-living soldier in her honor guard of horror!
That means helping fight off the army of supernatural monstrosities Hime's siblings are unleashing against her in hopes of moving up the ladder of succession. And if facing off with vampires and zombies isn't bad enough, how can anyone be prepared for the truly weird ones like were-sharks, pandas and killer dumplings? This sure isn't the afterlife Hiro was hoping for, but the really sad part is that Hime is the good girl in all of this. Or at least, as close to good as you can come when you're on the wrong side of the gates of Hell! Get ready for the wildest animation about reanimation ever in Princess Resurrection – The Complete Collection!
Commentary:
As the anime market expands there is a rush to bring back some almost classic anime that have been set aside for years. This is just the case of Princess Resurrection. In other words this humorous anime has bee resurrected. Weh I say humorous I really mean it. I did find myself laughing out loud several times but most of the time I managed a smile in the simplistic approach to this harem. It made me think of other anime that conjure up a very similar story such as Is This A Zombie and even Karen.
The premiss of Princess Resurrection is not as groundbreaking as hopped for, but the execution is entertaining enough to justify its return to the anime sales shelves.
I am not saying that Princess Resurrection is just laughs, i found it to have just enough drama and mystery to keep me watching. There is a underlying mystery that needs to be discovered, but getting there is fun and entertains.
Overall Grade: B+
I often worry about these older series that are bing brought back for the new generation of fans to discover. Princess Resurrection manages to make itself a little more accessible than many others. The animation is average and not too dated. The writing is strong enough to keep the viewers interest and the humor is solid enough to keep you smiling.
Princess Resurrection is a worthy revival anime that more than deserved to be resurrected.