Deprecated
: Function create_function() is deprecated in
/home/animeggr/public_html/wp-content/plugins/wp-spamshield/wp-spamshield.php
on line
2033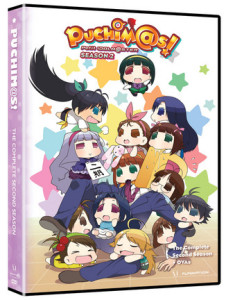 Title: Puchim@s Petite Idolmaster (1 and 2)
U. S. Publisher: Funimation
U. S. Release Date: May  19, 2015
Format: DVD
Genre: Comedy, parody, spin off series
Age Rating: 13+
Overall Personal Rating: B
The idol group of 765 Productions has been invaded by mini, almost pet-like versions of themselves.
Synopsis:
As a slice-of-life comedy, there isn't an all encompassing  plot or a story line to follow. Basically one of the girl idols walks into the office, holds up a little Puchimas, says, "I found this, can we keep it?" Then repeat.
The Puchidols grow in numbers and ease into everyday life. It's the people who have to get used to them, whether is a problem with one digging holes to another's strange abilities.
Season 1 introduces all the Puchimas and we learn what quirky characteristics they have and what special or magical ability they might have. Everyday life only cuter; house sitting, catching a cold, a trip to the hot springs. It is a large cast because the idols all have a doppelganger mini SD version, so I can't really be specific with who is doing what.
Season 2 is more of the slice-of-life when living with Puchidols and how incredible cute and fun they are. With lots of eating. Occasionally they go to a uninhabited island, have a campfire and explore. Oh, there is the obligatory anime beach scene as well.
Commentary:
This is indeed silly and cute for everyone to watch, but it is even more so if you have watched other parts of the Idolmaster franchise. A parody is always funnier if you have seen the original.
The DVDs were created with a mix of original internet animation and OVAs. It is English subtitled only, which is good, I don't think a dub could successfully recreated the squeaky cute voices of the Puchimas. Each original short episode was hooked together to form a longer "episode" for this printing.
Now the Puchimas are tiny versions of the idols, chibi to the max. They can be compared to a gremlin or a cat. Each one has some sort of "power" or something unique; duplicating when wet, being a raft, catching coins, summoning up animals, a forehead lamp….
One complaint, when someone keeps creepily rubbing a puchimas' bottom because it is sooo cute. Ugh.
The "Producer" is the only male character, but this surely isn't a harem anime. Maybe and anti-harem, because Producer is the butt of many jokes or completely left out, like showing up at the hot springs just as everyone else is leaving.  And he has this thing about the uninhabited island, wanting everyone to go on quests or play some sort of game. Now, the most unusual thing about him is that his head is a giant letter "P". He knows it too, because it makes it into the jokes. I think he adds a bit of variety to the comedy and helps it not all get to syrupy with constant the cute. He definitely had the best lines.
Overall Grade: B A bright and lively anime,  just right for some cuddly and goofy fun.