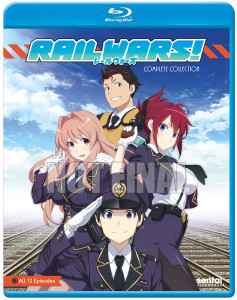 Title: Rail Wars! Complete Collection on Blu-ray
Director: Yoshifumi Matsuda
Studio: Passione
U. S. Distributor: Sentai Filmworks, Section 23
U. S. Release Date: April 4th, 2016
Format: Blu-ray / 12 Episodes / 300 minutes
Genre: Harem, Comedy, Action
Age Rating: TV MA
Overall Personal Rating: B-
Synopsis:
All train fanatic Naoto Takayama has ever dreamed of is becoming an engineer, but when he finally makes the grade and scores a trainee position with the JNR, his ambitions are totally derailed.
Now, instead of the big front cab of his dreams, Naoto's stuck in the security division working with a squad of gorgeous girls and escorting pretty idol singers. Oh, what a nightmare!
Okay, so there are the occasional bomb threats, thieves, and members of the rogue railway privatization group RJ to deal with, but that's what trigger-happy harpy Aoi and Sho, the squad's only other male member, are for. And if Naoto's one-track mind could just see the light at the end of the tunnel, he might realize that he's already on an express train to paradise with multiple lovely cabooses. Will getting railroaded take on a whole new meaning? Find out as everyone gets off on the wrong side of the tracks in Rail Wars!
Commentary:
Rail Wars! falls under the standard heading of the Harem genre and it really is a harem anime. In that I mean that it only purpose is to be a harem. The plot was tossed out after the first episode. I had real hope that this would be something more than the guy that all the women wanted. Reality set in quickly and that is what it became. I also had high hopes that he would just accept the relationship with Aoi and move on to a story that had something to say.
Rail Wars! does do a fine job being a Harem and there are plenty of anime that are wonderful in their own right as a harem, like Ai Yoei Yoshi and Tench Muyo. Rail Wars! tries to give us a story but for all of its effort I found it to miss the mark.
Overall Grade: B-
Rail Wars! gives us some fun and excitement following this small team trying to become members of the National Railroad. The premiss is interesting and the title makes it sound like there will be some waring rail road companies, but if there is a war it is just a brief encounter between women who all have the his for Naoto. For all that it is worth, I did find Rail Wars entertaining and honestly wanted him to end up Aoi.
If you like sexy women, easy happy looking anime and plenty of groping going on then Rail Wars! is for you.