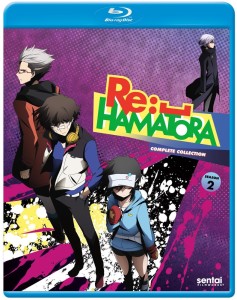 Title: RE:Hamatora season 2
Directed by: Seiji Kishi & Hiroshi Kimura
Written by: Tōko Machida & Jun Kumagai
Music by: Makoto Yoshimori
Studio: NAZ
U. S. Distributor: Sentai Filmworks, Section 23
U. S. Release Date: January 26th, 2016
Format: Blu-ray / 12 episodes / 300 Minutes
Genre: Drama, Sci Fi, Mystery, Supernatural
Age Rating: TV MA
Overall Personal Rating: A-
Synopsis:
Having the incredible powers that come with being a Minimum Holder can be a huge advantage to a private detective firm like Hamatora, but how can anyone stop someone who can both come back from the dead AND steal your powers at the same time?
That's the problem that now confronts Murasaki and Hajime, and it's made even more vexing by the fact that the team's founder, Nice, may be dead as well. But while it may or may not have been Nice, Art is definitely killing himself for more than just Art's sake and his goal seems to be to gather as many stolen powers as he can in order to rival Nice's ability.
However, the strength of a power isn't all that matters, and a lesser ability can triumph over a greater one if used correctly. It's Rock – Paper-Scissors but with super powers as Minimum Holder takes on Minimum Holder in RE: Hamatora!
Commentary: 
Season 2 of Hamatora does something that every anime should do, tell a great story and give the fans a thrilling plot and solid ending. Season 1 set the plot up and season knocked it down. I thought I understood the characters from their solid development in the first 12 episodes, but that was nothing compared to what was provided in season 2. Honestly it has been a long time since I have come across a series that does this. Mt first thought was Darker Than Black and the complexity of those characters. Although, Darker Than Black was better written and gave us some very memorable individuals. In Hamatora there are plenty of great characters, it isn't until the end that they become something more than entertaining.
Just as season 1 was quick and dramatic season 2 of Hamatora is a little slower and much more intriguing. Much of the first 5 to 6 episodes I was trying to understand what was really going on and it wasn't until I got to the last 3 that everything began to come into focus. That is ideal in a dramatic series like Hamatora, but there a few moments that I was ready to step away just be drawn back in. I didn't get that momentary doubt in season one.
Overall Grade: A-
RE: Hamatora just might prove to be a long lasting series. I just hope anime fans get the opportunity to see it. I have discovered over the last few years that all to many solid series get lost in  the hype and flash of the other super star shows that blast onto the scene. I miss the days where series are discovered and become a small wild fire through the fandom. Now-a-days it seems as if the ones that get the most advertising and hype get the all too much attention. Where there are many great series that get left on the self. I get people asking me about great series and I through out some names and more often than not I get blank expressions then something like "what do you think about Attack On Titan?". I just smile.
Hamatora has it all and then a little more. If it would not have lost focus early on in season 2 I think it would have been a home run. If you are looking for a true drama that ends up being kinder and gentler than you might expect then you really need to check this series out.