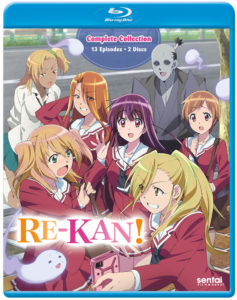 Title: Re-Kan!: Complete Series on Blu-ray
Director: Masashi Kudo
Written By: Takahashi Aoshima
Music By: Hiroyuki Kōzu
Studio: Pierrot
U. S. Distributor: Sentai Filmworks, Section 23
U. S. Release Date:
Format: Blu-ray / 13 Episodes / 325 Minutes
Genre: Comedy, Supernatural
Age Rating: TV 14
Overall Personal Rating: B+
Synopsis: 
Narumi Inoue has a problem with the new girl in school. It's not that Hibiki Amami is impolite or a bully… it's just that she sees, speaks with, and befriends ghosts!
Now, it's at the point that when Amami's around, Inoue sometimes sees them too, spelling disaster for a girl who's terrified of anything supernatural. However, Amami's genuine kindness makes it hard for Inoue to ignore her, especially when her friends Kyoko, Kana, and Makoto, as well as the other students, have accepted Amami's habit of talking to thin air and walking around invisible obstacles.
With gentle coaxing (and the knowledge that her departed grandmother is watching over her), Inoue finds herself immersed in Amami's strange, otherworldly adventures. Fulfilling the last wishes of the dead might not be a normal after-school activity, but at least they'll always know why the ghost crossed to the other side in RE-KAN!
Commentary:
Right off the bat Re-Kan! caught me by surprise. This almost silly series made me feel a little softer and kinder. It seemed to want us to disrespect it because of the overtly yuri leanings, but in the end I still felt warm inside. The tone was everything and I never felt unwanted or left out. The fact that Amami's ability to see spirits was accepted by her friends and class mates managed to come across more naturally than I would have expected. This connection made the entire series much easier to watch.
Overall Grade: B+
I typically do not enjoy yuri inspired anime or even the hint of love between girls. I guess it is because I am a guy and very jealous about girls not liking guys the same way I like girls, but on a personal level can understand how connections happen between people no matter what sex they are.
None-the-less, I found the simple easy going and mildly funny Re-Kan! to be an anime for everyone. I think that the only shortcoming is the simplicity of the story line. The character development and basic plot are strong enough to carry the full series, but I think that if there were a little more depth to the series / story I think it could have overcome the teenage love interest between the girls and made the series more about the friendships and bonds they all really made in their first year of school together.
Re-Kan! is a anime to watch if you want a simple high school story with kind humor and even kinder characters that are very likable. Check it out I think you will come away with the same warm pleasant feeling that I did.