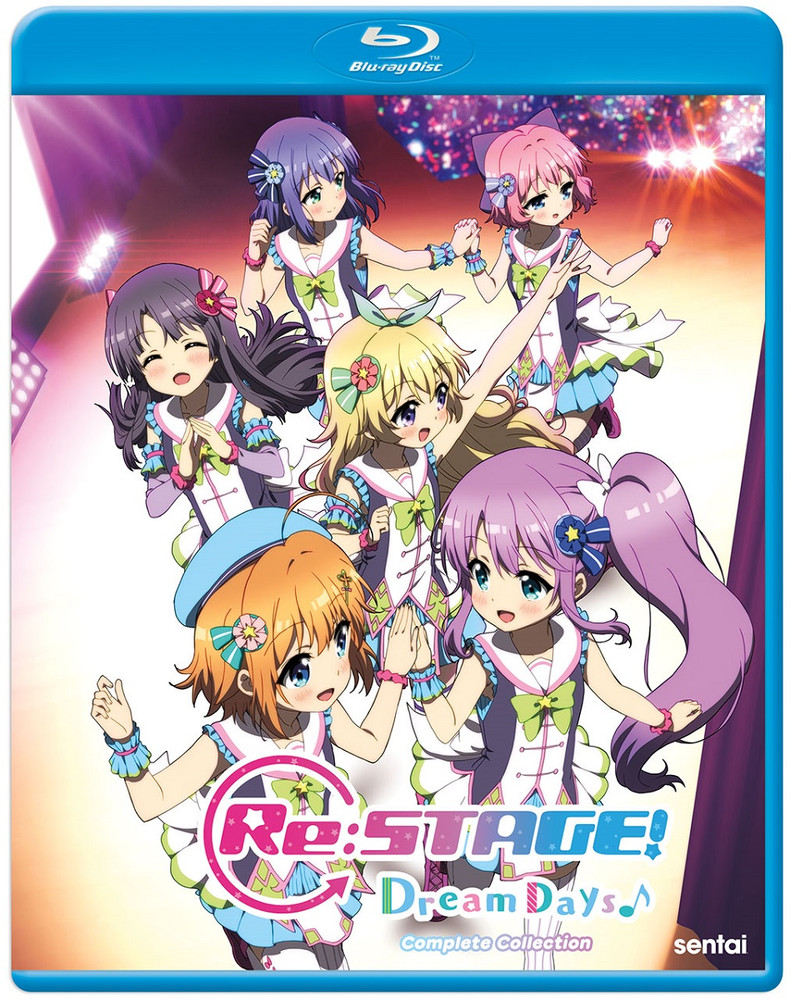 Title: RE: STAGE! Dream Days: Complete Collection
Director: Shin Katagai
Writer: Team Yoree
Music by: Kota Yamamoto
Studio: Yumeta Company Graphinica
U. S. Distributor: Sentai Filmworks, Section 23
U. S. Release Date: June 23rd, 2020
Format: Blu-ray / 12 Episodes / 300 Minutes
Genre: Girl Idols, Music, Comedy
Age Rating: TV 14+
Overall Personal Rating: B+
Synopsis:
When Mana Shikimiya joins her new school's struggling Lyrical Tradition Dance club, she finds herself swept up in a dream shared by thousands of other middle school girls across Japan: To someday compete at the Prism Stage, where teams of young women battle in song and dance for the chance to become the next generation of top idol singers!
First, though, she'll have to help save the club from being shut down, and then she and her new friends Sayu, Mizuhua, Kae, Kasumi and Minori will have to up their musical game in order to make it to the first level of competition. Because no matter how badly they want to win, there are hundreds of other girls who want it just as much… and those girls all have a head start!
Commentary:
In the over crowed world of girl idol anime there has to come a point were the story has a just lost its appeal. Re: Stage manages to do something unexpected. It finds a way to make you care about these girls and all of their quirkiness and awkward social habits. It all starts with Mana trying to get out from underneath the family shadow to Minori and her overbearing nature that makes this little series worth while.
Living in the shadow of series like Love Live and Idolmaster you get the feeling that most of these girl idol series are out to capitalize on the enthusiasm for the genre. RE: Stage gives you just a little more and makes you want to continue to watch to see if this funny group of young ladies can make it work.
Overall Grading: B+
The production levels of the series are a little above par and the graphics program used manages to make the images smooth and easy to watch. The writing is by far the strong point with the series. It allows the viewer to actually care about the characters and watch them progress. The voice acting is very much what you would expect and at times a little over the top, but with these types of series you have to expect plenty of high pitch shrill in the voices.
Re: Stage just might be coming to this genre a little late, but I hope it finds a solid audience. It is much better than many of the series that have been released over the last couple years and deserves a chance. If, School Girl Idol anime is your preferred genre then you really need to give this one a chance. The characters are full of life and have enough personal idiosyncrasies that makes you want to really root for them. Check it out you just might like what you see.