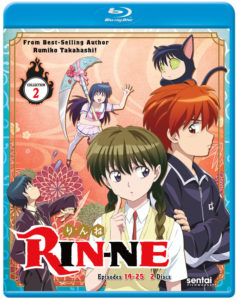 Title: Rin-ne Collection 2 on Blu-ray
Director: Seiki Sugawara
Writer: Michiko Yokote
Studio: Brian's Base
U. S. Distributor: Sentai Filmworks, Section 23
U. S. Release Date: September 6th, 2016
Format: Blu-ray/ 12 Episodes / 300 Minutes
Genre: Comedy, Supernatural, Romance
Age Rating: TV 14
Overall Personal Rating: B+
Synopsis:
Sakura Mamiya's life was odd long before she started helping her fellow student and half-Shinigami Rinne Rokudo assist lost souls in reaching the land of the dead. However, as strange as the various spooks, specters and other other-worldly entities that Sakura has encountered on a daily basis may have been, nothing is as out and out bizarre as finding herself and Rinne involved in a complicated web of perceived romantic relationships that also include a former childhood friend and now frustrated exorcist, Tsubasa Jumonji, and the air-headed and extremely gullible Shinigami Ageha. After all, Sakura's not really sure she's even attracted to Rinne!
On the other hand, given the dangers inherent in foiling the efforts of the soul-stealing Damashigani, worrying about anyone's love life is going to have to take second place to avoiding becoming part of the afterlife herself. It's a second round of second thoughts and second chances in the second stunning collection of RIN-NE!
Commentary:
Rin-ne is one of the contemporary classic anime that follows the supernatural world with lots of slapstick comedy and silly comedic romance. With the love triangle between Rinne, Sakura and Tsubasa and of course the more than silly Ageha vying for Rinne the series jumps from situation to situation with much the same result. There are plenty of smiles in this rather silly series and when it comes to playing with the supernatural Rin-ne has a lot of fun.
Overall Grade: B+
With 50 episodes to date this set only gets us half way there. In the world of Shinigami Anime Rin-ne gives us purely comedic look much the same as some newer anime like Kokomo San. It doesn't get as bogged down as Inu Yasha or Bleach and surely doesn't have the darkness of Blue Exorcist.
Rin-ne is a fun series and if you are looking for something that has a light romantic tenge or rather silly high school look at a couple of boys after one girl then you should check out Rin-ne. Be sure to start with collection one if you do.