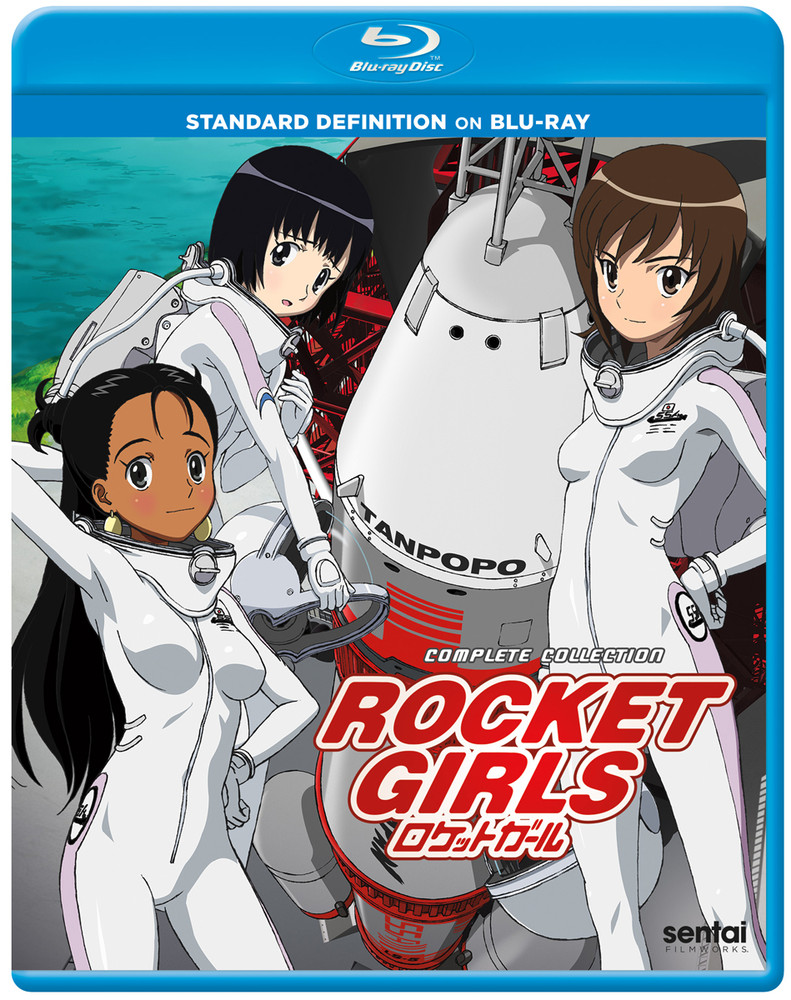 Title: Rocket Girls: Complete Collection on Blu-ray
Director: Hiroshi Aoyama
Studio: Mook Animation
U. S. Distributor: Sentai Filmworks, Section 23
U. S. Release Date: Jan. 15th, 2019
Format: Blu-ray / 12 Episodes / 300 Minutes
Genre: Sci Fi, Comedy, Adventure
Age Rating: TV 14
Overall Personal Rating: B+
Synopsis:
When Yukari Morita decided to look for her missing father who disappeared in the South Seas, she had no idea how far her journey would take her. Just traveling to the Solomon Islands is a long way for a high school girl to go on her own, but then Yukari runs into an astronaut from the Solomon Space Association, which has been trying to build a rocket powerful enough launch a man into space. Upon meeting the petite Yukari, however, SSA director Nasuda realizes that she's small enough to go up in a less powerful rocket the SSA has already built! So he offers her a deal: if Yukari agrees to become their astronaut, the SSA will help find her missing father! Will Yukari have the right stuff to blast off in the wildest space quest ever? Find out in Rocket Girls!
Commentary:
Any time a series is adapted from a popular light novel the anime is often flawed. In the case of Rocket Girls the story manages to stand on its own. Of course there has to be plenty of great stuff left behind. To its credit this series does manage to get to the point of the story.
I feel as thought there was a reasonable attempt to provide solid character development for the girls and with the tight constraints of 12 episodes there is plenty of development along with plot focus that is provided.
As the series progressed it becomes clear that this anime really wants to be taken seriously and because of its real life help from Japan Aerospace Exploration Agency (JAXA). Rocket Girls does manage just fine.
Overall Grade: B+
I really love these type of anime. I was particular fond of Space Brothers and all 99 episodes that were produced. With Rocket Girls the shortness of the series did have an impact on the overall enjoyment. I do wish much of the everyday issues, trials and tribulations could have been played out a little better.
Rocket Girls is very good at what it does. There are plenty of smiles and a few solid laughs, but the place it shines is in the real life science and some of the drama that comes out in the story.
If you are looking for a light hearted Science / Fiction story that just might inspire a young lady to look at space as an option for a career then Rocket Girls is for you.