Anime Review

Title: Sagrada Reset: Complete Collection on Blu-ray
Director: Shinya Kawatsura
U. S. Distributor: Sentai Filmworks
U. S. Release Date: May 21th, 2019
Format: Blu-ray /24 Episodes / 600 Minutes/ 3 Discs
Genre: "metaphysical" drama
Age Rating: TV 14
Overall Grade: A-
Synopsis:
In the small city of Sagrada reality is different. Many of its residents have special and unique abilities. No, not flying or spider like senses, but usually odd and rule specific "talents". For instance, one man can take photographs that people can enter and talk with the subjects if they tear the paper, but only for 10 minutes. With all the possibilities, good and bad, does someone need to be in control? The Bureau is an organization which attempts to be aware of the abilities in use and step in when necessary. But on whose judgement is this organized, and you might guess there other influencers orchestrating in a different point of view.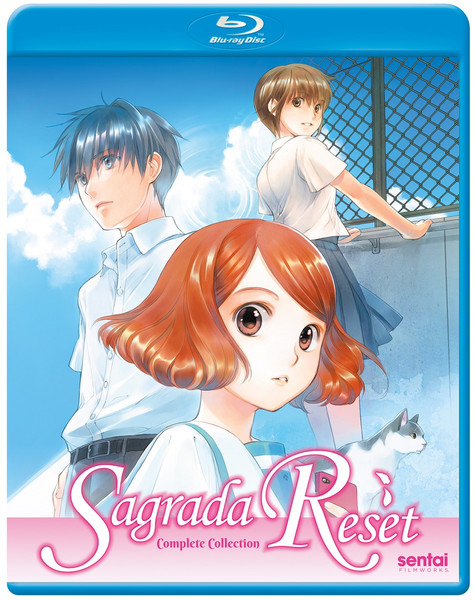 Misora Haruki has the ability to reset time, everything begins again where she last saved, including her memories. She can't even leave herself notes because that too would be reset. So what can be done with that ability? Without a memory, there isn't hope that things will be different a second time. Why bother to repeat a day if it would be the same? She doesn't even know it is a reset. Only when an aquaintance introduces her to Kei Asai does the true importance of her ability becomes practical. Kei's ability is to remember everything big or little and it is absolute, meaning this memory is intact through resets. He intends to pair up with Haruki as a way to help people and relieve suffering. But life and circumstances are a complicated weave of interdependence. To create a change or plan will undoubtably cause unintended turns in a chain of events.
Commentary:
Sagrada Reset is a layered story and develops increasing complexity. A viewer really needs to pay attention. On that note, during one watch session, a couple of people sat in on an episode a quarter way through the series and they were hooked right away and definitely put this on their list to watch.
Part of the strength of Sagrada Reset is the way it is structured with story blocks running 3-5 episodes long. This gives the back and forth timeline enough space to be better explored. They build upon each other as the series goes on. It also has the ability to evoke a sense of urgency or pressure without being so dramatic.
I found the characters to be interesting. They are easy to care about which could have been very difficult because self-centered/self-serving ability users are the norm. The main characters do have friendships, but they aren't simple companionship. There is something they need in order to push time in their own chosen direction. New characters are introduced as their abilities are necessary to move the story forward.
Sagrada Reset has some thought provoking ideas and questions. Like how far would you push things if you knew you could reset and live it all over again? What is the importance of memories? How they are valued and do they account for who we are and who other people are to us. If we had the ability to create a copy of someone who is gone, even with the same memories, are they the same person?
Somewhere in the middle, I found things got a bit difficult (complex?), with lots of talking, repeating and explaining. The story, events and results were not just handed to us. Some tricky dialogue, in other words, pseudo-explainations. Like some prose and poetry, it doesn't all make sense. But trying to figure it out does make it interesting and thought provoking.
Save. I enjoyed Sagrada Reset and plan to watch it again. I think there is even more for me to understand. I want to see what the characters do, to figure out when they are trying to manipulate events, or even if their manipulations are in fact someone else creating the reality. With precognitions, I'll be able to catch the more subtle movement of the story and its characters the second time around. Reset…
Overall Grade: A-
Who has the right to decide the future, to manipulate the outcomes, the lives of others. Being indirect even when you know the answer.