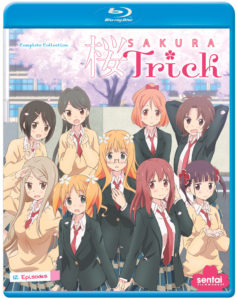 Title: Sakura Trick: The Complete Collection on Blu-ray
Directed by: Ken'ichi Ishikura
Written by: Tachi
Studio: Studio Deen
U. S. Distributor: Sentai Filmworks, Section 23 Films
U. S. Release date: September 13th, 2016
Format: DVD / 12 Episodes / 300 Minutes
Genre: Yuri, Romantic Comedy, Slice of Life
Age Rating: TV 14
Overall Personal Rating: C
Synopsis:
Haruka and Yuu have been best friends forever and they've always sat next to each other in class since… well, since they were just girls in junior high anyway. But on their first day of high school, they're stunned to learn that the new seating plan has them on opposite sides of the classroom! So, since everyone knows that long distance relationships won't work unless the parties involved put extra effort into it, they decide they need to do something extra special to permanently seal their friendship. However, deciding to kiss each other awakens a whole new level of feelings, and it doesn't help that some of their classmates seem to be "involved" in similar circumstances.
So what's a girl to do when her best girl friend suddenly seems more like a girlfriend? It's a life lesson that the school curriculum isn't normally prepared to teach, except maybe in French class, and our two young heroines are about to get a private education you'll never forget! Discover the truth about the birds and the… er… birds, as two young ladies learn to deal with the pros and cons of intramural osculation!
Commentary:
When it come right down to it a series based on a simple proposition that the feature young lades fall in love is not alway a poor option for a story. In the case of Sakura Trick the fact that they are best friends form Jr. High School and both girls narrows the field for potential fans. On the surface things are rather simple and the everything is basically put right out there in the first episode, but as the series progressed I found myself loosing focus and my attention span wondered off to other things.
Now this isn't the first time I have found myself loosing focus early on in a series just to find out later that it came together and gave me a reason to keep going. Unfortunately Sakura Trick did not give me a reason to say thank you at the end.
Overall Grade: C
Most of the time I was watching Sakura Trick I kept asking myself "who is the fan base they are going after?". My first thought was younger girls just coming to age and discovering their sexuality, but after the first few episodes I realized that those fans will gravitate to other story lines. The next option was the 20 to 30 male population who lean toward 2D girls and a solid level of fan service. Sakura Trick does have fan service, but it did not reach the level of a Sekirei or Freezing. I kept pondering this question and really couldn't place the otaku that would be all over this series.
I would love to say that if you are looking for a fun and delightful teen romantic comedy then you should pick up Sakura Trick, but I just can't. I guess that the blatant Yuri aspects just turned me off. So, maybe if you are a true fan of Yuri comedy that is simple and not so graphic then Sakura Trick is for you, enjoy,