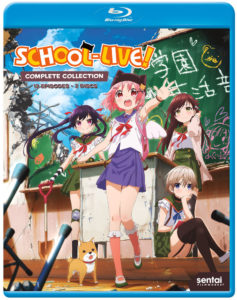 review provided by Luther
Title: SCHOOL-LIVE! on  Blu-Ray
Director: Masaomi Ando
Studio: Lerche
Distributor: Sentai Filmworks, Section 23
Release Date: June 27th, 2017
Format: Blu-ray / 12 Episodes / 300 Minutes
Genre: Slice of life, Comedy, Horror, Mystery
Age Rating: TV 14+
Overall Personal Grade: A-
Synopsis:
Why would anyone form a School Living Club? Could four girls, their advisor, and a puppy really love their school so much that they'd want to live in it? Or is there another reason, something that lurks behind the façade of their comfortable existence? Something that waits outside their school's doors. Something that has already robbed one girl of her sanity? While the others try to come to grips with a dark new reality, the rest of the world falls to ruin at the hands of a ravenous force, and insanity may be the last hope for survival. Shocks, heartbreak and stunning revelations await as the twisted tale unfolds in School Live!
Commentary:
School Live! is a series that is constantly surprising the viewer with shocking, but not unreasonable, plot twists and is a show that is best enjoyed without knowing much about the plot or setting. My first time watching the series was when it was originally airing, and all I knew about it was the name of the show and what the main characters looked like. At the time I was under the assumption that the show was going to be a standard slice of life anime, but after the twist ending of the first episode I knew I was in for something much darker.
However, School Live! is not an entirely dark horror show. Rather School Live! is an interesting blend of lighthearted comedy about girls living at school woven in between the intense drama and troubled lives of people surviving a zombie apocalypse. While slice of life comedy and horror are two genre that seem to be complete opposes, but in School Life the two tonal differences provide a unique juxtaposition. The lighter element of the series provides comedic relief and gives the viewer time to get to know and feel for the different characters; whereas the horror elements gives rise to compelling narrative and a deep mystery.  
Incorporating horror elements in to this series also provided a different take on slice of life anime. In many slice of life anime, like Lucky Star or Nichijou, bazar characters or situations appear in the everyday lives of the characters with little to no reasonable explanation and exist solely for the joke. Yet, in School Live! when similarly strange comedic occurrences happen, like a club that lives at school or a professor with so little presence that people sitting next to her forget that she is there, they are often reviled later to be a direct result of the zombie apocalypse.
Overall rating: A-
Neither existing as purely a slice of life or a horror anime, School Live! may not be what serious fans of either genre would enjoy. Nevertheless it is an interesting compelling take on both of that genre, and continually left me wanting to watch more. While the English dubbing did not have the best casting and the animation quality left something to be desired, the interesting cast of characters and the gripping story more than made up for any of the show's short comings.