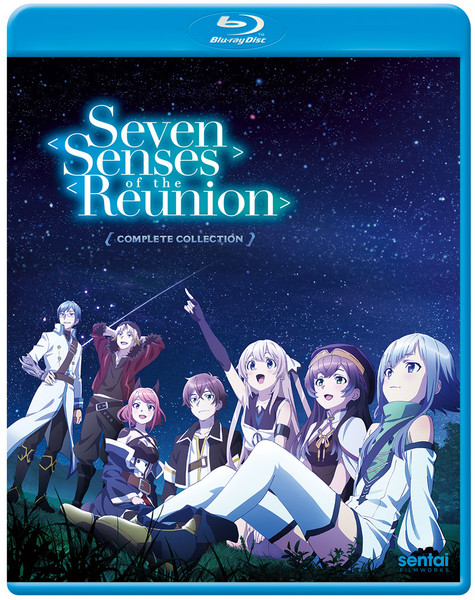 Title: Seven Senses of the Reunion: Complete Collection
Director: Takao Yoshioka
Writer: Yoshito Nishouji
Studio: Lerche
Music: SUPA LOVE
U. S. Distributor: Sentai Filmworks, Section 23
U. S. Release Date: December 2nd, 2019
Format: Blu-ray / 12 E3pisodes / 300 Minutes
Genre: Fantasy, Stuck in the Game
Age Rating: TV 14
Overall Personal Rating: B+
Synopsis:
Six years ago, Asahi Kuga died while playing the incredibly popular MMORPG "Union" with her friends. Now, after a worldwide scandal that saw the game pulled from the net, a new re-engineered version is back online, and, to the shock of Asahi's former teammate Haruto, so is Asahi!
As impossible as it seems, the virtual version of Asahi that Haruto finds trapped in a treasure chest has all of Asahi's memories, but with no body to return to, she's trapped in the game. And that's not the only mysterious thing going on in Re'Union. Someone is manipulating the players, pitting them against each other and forcing them to develop the games special Sense skills. Who is literally playing with their lives and what is their agenda?
Commentary:
Well, well, well, another stuck in the game anime that also emulates the very popular Anohana: The Flower We Saw That Day. Seven Senses of the Reunion worried me at first. I had a very bad feeling that this was just going to rip-off Sword Art Online blended with Anohana. At first it was just what I thought but as the series developed I saw that the writers cared about what they were creating and made the story richer and more complex than just a ghost stuck in the game. The character development was lively which makes it easy to become attached to the story and the main characters.
The animation is very standard 2018 Computer Generated (CG) which detracted from the story at first, but with many anime once you get past the visuals it comes down to the writing and direction. In the case Seven Senses of the Reunion the directing and writing make all the difference.
Overall Grade: B+
If you loved Anohana like I did and are also a fan of Sword Art Online then you should check out Seven Senses of the Reunion. You will be glad you did.