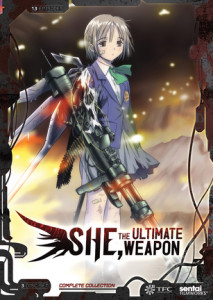 Title: She, The Ultimate Weapon
Director: Mitsuko Kase
Studio: Gonzo
U. S. Distributor: Sentai Filmworks, Section 23
U. S. Release Date: April 7th, 2015
Format: DVD / 13 Episodes / 325 Minutes
Genre: Drama, Apocalyptic, Romance, Anti-War
Age Rating: 17+
Overall Personal  Rating: B+
Synopsis:
Not every soldier wants to fight. Not every weapon wants to be used. But when an unexpected force attacks their city, the hopes and dreams of students Shuji and Chise are shattered by the fires of war. Surviving the bombing after a mysterious defender decimates the attackers, Shuji discovers Chise in the ruins – but she is no longer the girl he has always known.
Changed and twisted by military experiments, Chise has been altered into something no longer completely human. Even worse, though they both fight to deny it, the things that made her the person she was are slowly beginning to fade away. Can a human soul exist inside a device that was created to kill? And can any heart continue to feel love for something that is only a shell of the person it once was?
Commentary:
She, The Ultimate Weapon  (a.k.a. Saikano) is a very different series that posses some very complicated questions to the viewer. It pushes you imagination and at the same time asked you to try and take a moral position while watching these high schoolers deal with a rather horrific situation. The writing of the series is by far the shinning aspect and because of it you see Chise and Shuji very human or at least in the beginning. Of course there is the constant struggle to maintain  their humanity and at times it is hard to know which one is being more human or loosing their humanity faster.
Even though Chise is forced to go through the transformation it becomes clear that Shuji has to deal with many of the same demons without the ability to blame it on a unwanted life altering modification. In many ways I really felt more sympathy to Shuji than I did for Chise.
Overall Grade: B+
At first I had to stop and check when the series was originally created and based on the art style I was sure it was the mid 1990s but to my surprise it was 2002. I think this throw back in art style made it hard to want to watch at first. Once I got several episodes into the series I began to appreciate it a little more, but never go to the point that I felt like it really fir the series that week. I reminded me a lot of the styling of  Serial Experiment Lain which is how I got the the 90s with the art style, but at least the plot and story is a little easier to follow. Al though there is plenty of  the series that will give you a reason to pause and give it some genuine thought. I found the question to much of the same ones raided in Gunslinger Girls, but in that series their transformation saved their lives.
It is very understandable that this series will find a fairly narrow fan base, but I think that you like to thing and are willing to give a solid drama a chance then you are going to be glad you check out She, The Ultimate Weapon.