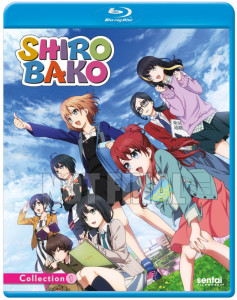 Title: Shirobako Collection 1 on Blu-ray
Director: Tsutomu Mizushima
Writer: Michio Yokote
Studio: P. A. Works
Produced by: Warner Entertainment Japan
U. S. Distributor: Sentai Filmworks, Section 23
U. S. Release Date: February 9th, 2016
Format: Blu-ray / 12 Episodes / 300 Minutes
Genre: Slice of Life, Comedy, Drama
Age Rating: TV PG
Overall Personal Rating: A
Synopsis:
After making an animated film together in high school, Aoi and her friends Shizuka, Ema, Misa, and Midori made a promise to each other: to all get jobs in the anime industry and someday work together again.
Two years later, Aoi is learning that working as a production assistant at a small animation studio is far more demanding than she ever imagined, and Shizuka's aspiring career as a voice actor involves more time waiting tables than recording.
Meanwhile, Ema's slowly making a name for herself as a key animator, Misa's moved from 2D to 3D and now works in computer graphics, and screenwriting hopeful Midori is lagging furthest behind, still looking for her first big break. But are they ready to give up on their dreams just yet? No way! Because while anime may come from inspiration, in the end it's the ones who're willing to put in the perspiration that make their dreams real in Shirobako!
Commentary:
Shirobako is wonderful way to start off the 2016 release season. It is a smart lively slice of life that gives us a group of young adults trying to make their way into the anime profession. As we follow these five young ladies it becomes very clear that we are seeing a true cross-section of how life works. The series gives up a rather upbeat view of their world with moments of struggle and frustration tossed in. It is easy for most of us to think how great it would be to in the anime industry but the truth is that it is a meat grinder that demands long hours and a work ethic that s second to none. Shirt Bako does a great job of portraying these struggles but is not too discouraging.
I think that approach may be the real strength to the story. I would never want to totally discourage people who are still as idealistic and have big dreams because once you loose your dreams life just becomes a series of good and bad moments. Of course I am coming from a jaded viewpoint of someone who has been a part of the corporate world far too long.
Overall Grade: A
Shirobako isn't a top notice anime just because it gives a solid slice of life. The truth is that is does this without making you cry. I was beginning to think that slice of life meant sad and depressing, but it is great to see a positive anime come out and breach the fourth wall an look back at its own industry. There is also the fact that it is rated PG, not TV14 or even MA, but rather PG. That is awesome in my mind because a story like this should be available for all audiences. I think there are plenty of younger teens that might watch this and find it to be something of value rather than something that just bleeds all over the place.
It is understandable that P. A. Works took on this story and why it turned out the way it did. Way to go P. A. Works, here is another anime that proves that you understand what you are doing and why you are still going strong after 15 years. You have survived through some of the toughest years and still bring us some of the best series out there. Shirobako is a  good one thank you.
Shirobako is a series that you need to check out. It is well produced, well written and well voice acted. I love that it fires on all cylinders and proves that it is not boring to tell a good story and make it believable.