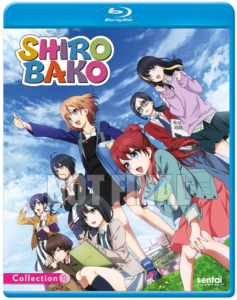 Title: Shirobako Collection 2 on Blu-ray
Director: Tsutomu Mizushima
Writer: Michio Yokote
Studio: P. A. Works
Produced by: Warner Entertainment Japan
U. S. Distributor: Sentai Filmworks, Section 23
U. S. Release Date: May 24th, 2016
Format: Blu-ray / 12 Episodes / 300 Minutes
Genre: Slice of Life, Comedy, Drama
Age Rating: TV PG
Overall Personal Rating: A
Synopsis:
It's official. Musashino Animation's next production is "Third Aerial Girls' Squad!" In a surprising turn of events, Aoi finds herself assigned as the production manager for the project, but from the very beginning it looks like she may be overwhelmed by the sheer magnitude of the project. Of course, her old friend Ema is already aboard as one of the animators, while Midori makes an enormous contribution by taking on many of the program's important research duties. And when Misa's new company contracts to produce CG for the series, all but one of the members of the old animation club are working on the same production! Left out again, Shizuka auditions for a role, but, as a relatively new voice actor the odds of her being cast in a major part seem highly unlikely. That doesn't break the bonds of their friendship, however, and there are tons of surprises ahead as TAGS's journey to broadcast draws to the finish in the second collection of SHIROBAKO!
Commentary:
Shirobako is one of those anime that will end up standing out as a go to anime for all serious fans. It will also find its way into the library of those who aren't everyday fans but those who are looking for another slice of life anime that deals with everyday struggle that come with any job and deadlines. Anyone who has ever been a part of a major project with tight deadlines will enjoy this series because that is what it is all about.
The real strength of Shirobako is the character interaction and the wide variety of personalities blended in the stressful dynamic of the world of anime production. Everyone must start somewhere and for Aoi this is her big opportunity to discover her abilities and to maybe even learn something about herself that will help her become more confident in the path she is following.
The rest of the cast have their ups and downs but it is Aoi who is the spotlight and who has the biggest job that requires wearing many different hats. I loved the way we saw the doubt and resolve in her life along with the support she got from those around her along with the suspicion of her abilities for some.
Overall Grade: A
I can say that I have been very lucky with many of the series I have had the chance to review over the last few weeks and Shirobako stand at the top of the list with my other favorite Space Brothers. Both of these series take on the topic of following your dreams and even look at finding what is important in life too. Shirobako gives us glimpse into the fast paced world of anime production and also shows us how many different people and companies are involved in getting something as complicated as an anime on the air.
When it comes to anime or any series I find the story to be the driving reason to like it. Shirobako's story hits a home run and is another one that could easily be prime time TV in the U. S. I think more and more families are discovering anime as a great source of entertainment and once people get over the sub title issues they will discover a whole world of stories that they could have never imagined existed. This type of series is s shining example of the difference in American and Japanese animation. I for one can't remember the last time I watched a slice of life animation from any american production company. Yea for Anime give us more shows like Shirobako please!