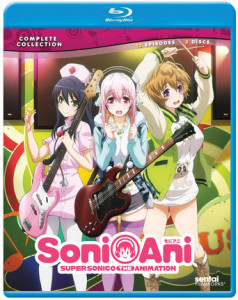 Title: Soni  Ani: Super Sonico The Animation Complete Collection
Director: Kenichi Kawamura
Studio: White Fox
Music: Go Sakabe
U. S. Distributor: Sentai Filmworks, Section 23
U. S. Release Date: May 26th, 2015
Format: Blu-ray and DVD / 12 Episodes / 300 Minutes
Genre: Music, Game, Comedy, Slice of Life
Age Rating: TV 14
Overall rating: C
Synopsis:
Saying Sonico is an incredibly busy young woman is an understatement. She juggles a modeling career, part-time work at her grandmother's bar, and performs lead vocals and guitar in an all-girl band all while attending college! Not to mention taking care of her five cats – or is that the other way around? When her workload gets a little too heavy, she can count on her fellow musicians Suzu and Furi and the rest of her friends for a stabilizing influence. Get ready for the bounciest adventure ever as this three girl band shakes, rattles, rolls and takes Tokyo by storm!
Commentary:
Ok I get it, this is a straight forward game that based anime that is all about the cheese cake. One thing that stood out tome was that we are beginning to see more and more of the Kim Kardashian body with abnormal sized breast, thin waist and large or should I say giant hips/butt. Super Sonico may not have the giant hips, but it is clear that the body style is trying to play off on the absurd pop culture that lives on TV.
Soni Ani: Super Sonico is a smile anime that spotlights the sexy girls and how often can you take this rather naive girl and put her in suggestive situations. Well, at least we know who the audience is and to put is simply I pity this group of the anime fandom.
Overall Grade: C
The strength of Soni Ani: Super Sonico The Animation is the animation. White Fox understood what they had to do and they did it. They bring forward a animation style that fit the series. The rest of the series has its funny moments and it stays true to the sole purpose of the series to even exists.
On the other side of the coin it really doesn't have a lot to offer other that sexy girls and one who is nothing more than a object of obsession. There are plenty of series out there that provide this type of entertainment and I can't say that it stands out as something that makes me want to go back of more.
If you are looking for bouncing boobs and plenty of suggestive situations that take a rather naive young lady and make her a object of sexual obsession. The you should run to your local anime store to see if you can pick this one up when it releases.
For the U. S. release I have to hand it to Sentai Filmworks because they hired a Cosplay super star, Jessica Nigri, to voice Super Sonico. If anyone would understand the concept of being on object of desire it would be her. I'm sure that plenty of the male fans see her as someone very special and will find the extras included with this release as something to own.