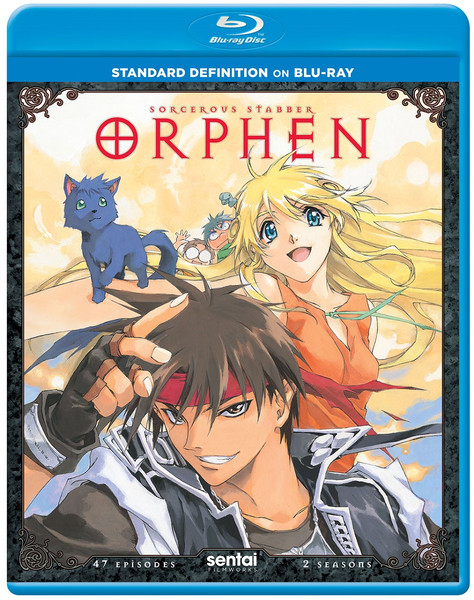 Title: Sorcerous Stabber Orphan on Blu-ray
Director: Season 1 Hiroshi Watanabe, Season 2 Tōru Takahashi
Studio: J. C. Staff
U. S. Distributor: Sentai Filmworks, Section 23
U. S. Release Date: August 20th, 2019
Format: Blu-ray / 47 episodes / 1175 Minutes
Genre: Fantasy, Adventure, Comedy
Age Rating: TV 14 +
Overall Personal Rating: B-
Synopsis:
When an experiment goes horribly awry and transforms the Sorceress Azalie into a monstrous dragon, the sorcerers of the Tower of Fang callously decide to pretend that Azalie died in order to preserve the Tower's reputation. And to make sure that the magic beans never get spilled, they also decide that Azalie needs to be destroyed. Disgusted by their cravenly actions, Azalie's friend Krylancelo renounces his allegiance to the Tower, changes his name to Orphen and sets forth to save the damsel/dragon in distress. It won't be easy: there'll be minions with nefarious plans to defeat, and along the way Orphen will pick up an apprentice, a spoiled rich girl and a couple of trolls. But it wouldn't be a heroic journey without a few bumps in the road, would it? The epic quest is on in Sorcerous Stabber Orphen!
Special Features: Production Sketches, Japanese TV Spot, Cape Day & Other Silliness, Interview with Japanese Staff & Cast, Outtakes, Clean Opening Animation, Clean Closing Animation.
Commentary:
This is the summer of resurrections. There are countless numbers of older series that are being brought back from the anime graveyard and Sorcerous Stabber Orphan is the latest arrival. I can't really say that it excites me but it does bring me some interesting entertainment. This set has both seasons and it is a great example of what happens when there is a change in directors.
The Sorcerous Stabber Orphan itself has everything you would expect from a late 1990's series. The comedic lead with a dark and dangerous back story. A group of misfits that surround him and a rather convoluted group of antagonist. The trope was all the rage because of the success of other series like Trigun or Cowboy Bebop. Although Sorcerous Stabber Orphan works harder on providing a comedic side and in many ways it is better at that than it is at giving us a solid plot line that makes the viewer really root for Orphan and want to see him save his sorcerous friend.
Overal Grade: B-
It is unfortunate that the production value of Sorcerous Stabber Orphan doesn't hold up very well to time where other series from that same time frame manage to still look and feel fresh. Sorcerous Stabber Orphan looks like it was a secondary series that was pushed through the mill as fast as it could be and comes across second rate. Funny thing is that it have a stronger following in Japan than some of the now recognized classics.
There is also the issue of the change in directors for the second season. For me this is where Sorcerous Stabber Orphan fell apart. There was a clear loss in direction and maybe even a weakening of the writing too. Either way, I found the second season less appealing than the first.
I do think that anyone how wants to understand what anime was really like 20 years ago then they should spend some time with Sorcerous Stabber Orphan. It will be enlightening.