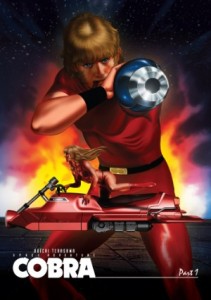 Title: Space Adventure Cobra part 1
Director: Osamu Dezaki
Studio: TMS Entertainment
U. S. Distributor: Nozomi / Lucky Penny
Original Run: Oct. 1082 – May, 1983
Re-Release Date: March 4th, 2014
Format: DVD / 15 Episodes / 375 minutes
Genre: Sci Fi, Space Opera, Action, Adventure
Age Rating: 16+
Overal Personal Rating: B+
Synopsis:
Seeking reprieve from a painfully ordinary 9-to-5 existence, mild-mannered office worker Johnson visits the TM Corporation, a company that sells virtual dreams.
In Johnson's dream adventure, he's the notorious space pirate Cobra! Accompanied by his android partner Lady Armaroid, Cobra fights the lowlife scum of the Pirate Guild by day and saves sultry sirens of space by night. After the journey is over, events unfold that bring reality into focus. His experience wasn't a dream at all – it was a reawakening of his buried past!
With the most feared weapon in the universe, the Psycho Gun, Cobra sets out into the galaxy in pursuit of love, fortune and fame!
Commentary:
Within the first 15 minutes I was sitting back and asking a simple question. Can you say Total Recall? Yes for those of us old enough or geeky enough to have see Total Recall I would have to say I now understand where the idea for the film came from. Cobra came out 8 years before The seminal Arnold the Govenator movie and much of the original premiss is the same. The only difference is that I can't tell if Cobra will follow the same notion of questioning the reality of what happens in the series. Even with that heavy preconceived notion in my head I still kept going and ended up finding Cobra to be a fun ad very entertaining series.
I found the characters to have richer personalities and a much more solid plot line that the western live action film and of course the animated Cobra is a much better actor than "I'll Be Back" Arnold ever was. All kidding aside, I found Space Adventure Cobra to be just that, a fun space adventure that lead us on a simple but entertaining getaway.
Overall Grade: B+
With older series that have been re-mastered and re-released it is often very hard for me to get past the dated animation, but in Space Adventure Cobra I only found that it took me a few episodes to get past the poorly or rather dated animation stylings of the early 1980's. I found it easy to loose myself in the story and sit back enjoy the ride. I can't say that the english dub is all that great, but again the age of the series sleeks volumes for what you should really expect to see and hear.
The concept and vision of the suture is what makes it stand out for me. Based on how fast we are moving I think it just might be very plausible to plug in very soon and experience an adventure while never leaving the couch. There is also that bizarre thought that someone could hide themselves in such a way that would allow them to discover a simple live without too much concern of giving themselves away. There are plenty of day that I would like to reinvent myself and at the same time forget about my past.
For all you Sci Fi lovers this one os for you and for all you wonderful people out there that know and have seen the original Total Recall this all I can say is that you better pick this up because I know you will be wanting to have one of those wow moments I had during the first episode. I can't wait to find out if this is a dream or reality.