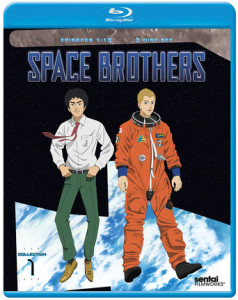 Title: Space Brothers collection 1 on Blu-ray
Director: Ayumu Watanabe
Music By: Toshiyuki Watanabe
Studio: A-1 Pictures
U. S. Distributor: Sentai Filmworks, Section 23
U. S. Release Date: Feb. 24th, 2015
Format: Blu-ray / 13 episodes / 325 minutes
Genre: Sci Fi, Slice of Life, Action, Drama
Age Rating: TV 14
Overall Personal Grade: A-
Synopsis:
Mutta's life has hit rock bottom. He's been fired, blackballed from his profession, and even had to move back in with his parents. Meanwhile, the career of Mutta's brother, Hibito, has taken off like a rocket as he trains for the job Mutta once dreamed of: becoming an astronaut. But is it ever too late to go after your dreams? Through a little coercing and a bit of covert activity, Mutta's family and friends can get his resume on the right desk, but from that point on it'll be up to Mutta himself.
Does he have what it takes to turn his life around and put his footprint on the moon? The first step on the highway to the stars is always the hardest, and in a job where crash and burn isn't just a euphemism, it'll be the biggest risk Mutta's ever taken. But with the right support team, maybe he'll find what he needs to rekindle the spark inside him and light the biggest candle of them all!
Commentary:
Space Brothers is a breath of fresh air in a room filled with sexual innuendoes. I have been loving this series for its simple straight forward story telling and the fact that it doesn't need a bunch of young partially dress girls or boys to make it interesting. Space Brothers doesn't pretend to ben anything other than a warn hearted story about two brothers who once dreamed the same dream but got separated and are now back on the path of realizing a special bond they experienced in their youth.
Of course, there are strange quirky things happening to keep it lively, but in its true essence it is all about he incredible optimism of youth and the though road that must be taken to follow those dreams. We may not know much about Hibito, but Mutta feels like he could be one of us. He has his odd quirks and his self doubt along with a relatively strong sense of self awareness that helps him stay on corse.
The writing of this series is what makes it special. The characters feel like normal humans with both fears and joy that go along with the big and little things that make up our daily lives. I think that if this series was about two brothers that wanted to be truck drivers it would still work based on the presentation of both the story line and the cast of characters.
Overall Grade: A-
There is a lot going on in this series even though it appears to follow a simplistic glide path. Knowing that it has a long way to go is a both frustrating because they manage to get the viewer involved and rooting for Mutta in a way that makes us want to know if he gets to his special goal. On the other hand that built in tension with the progression of the series makes it special to watch and it is even better if you space out the episodes.
Space Brothers is not a series that I would recommend binge watching. There are just too many episodes and the story needs to set in your mind so that you can discover the real pleaser that the series will provide.
I am finding Space Brothers to be a genuine pleasure and am looking forward to the next collection. I think that anyone who is close to a sibling and at one time dreamed about the future with them or even a best friend will find this series something to treasure.