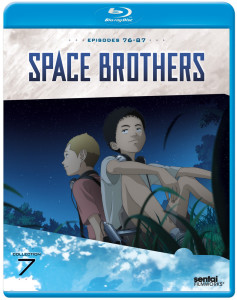 Title: Space Brothers Collection 7 on Blu-ray
Director: Ayumu Watanabe
Music By: Toshiyuki Watanabe
Studio: A-1 Pictures
U. S. Distributor: Sentai Filmworks, Section 23
U. S. Release Date: February 16th, 2016
Format: Blu-ray / 11 episodes / 275 minutes
Genre: Sci Fi, Slice of Life, Action, Drama
Age Rating: TV 14
Overall Personal Grade: A
Synopsis:
Whether in the planning rooms for lunar missions or the claustrophobic steel confines of an undersea laboratory, the one thing that every astronaut must learn to deal with is pressure.
But as deadly as the blowout of a pressurized cabin may be, the peer pressure that weighs on brothers Mutta and Hibito may be even more crippling. As Mutta prepares to journey to the bottom of the deep blue sea for NEEMO training, Hibito's path descends to even lower depths as his inability to recover sends him into a downward emotional spiral. Will a trip to Russia be the cure for Hibito's malaise?
Or, having once reached the stars, will he now end up forever grounded by NASA and JAXA? Yet even as one rising star falters, a second prepares for his ascent to the heavens as Mutta's quest to reach space advances to the next level in the seventh spellbinding collection of Space Brothers!
Commentary:
I know that by saying how much I like Space Brother makes me sound like a broken record, but the simple fact is that it is one of the more humanistic slide of life series I have seen. It doesn't just tel a story to make you cry or be happy. Space Brothers comes at you with real life lesson that make you stop and think about your own life and how you might react in the same situation. Space Brothers collection seven provides us with more trials and tribulations for the brothers and also give us a glimpse at what it means to be a brother, either a younger one of a big brother. There is something special about family that has a universal understanding about it.
I had my concerns that with a series this long that it will lose it's way and either become a silly redundant story about brotherhood and achieving dreams. Instead it gives us a plot line that makes thing tough for both brothers and shows us how life can be about choices and decisions rather than just dumb luck.
Overall Grade: A
Again these 12 episodes put you in the mood to stand up and applaud what you have just watched. Space Brothers is written by a person who have experience life in a way that makes it interesting with a understanding of the universal struggles that we all go through from fear, anger, frustration and competition against friends. I was impressed how each emotion was brought out and exposed in both of the brothers. There is also the aspect of understanding and friendship that comes into play for each. I found myself looking at myself and trying to see when I was in a situation like this. No I am not an astronaut and yes these struggles are not the same for everyone, but when you watch the series and get to these episodes you will understand what I am saying.
This is a great series and I know most anime fans will not even care about it. It may not be Free or Attack on Titan, but it much better. Space Brothers is about us, humanity and how we go about working toward our dreams. So, if you are looking for a heart warming series that gives you more to think about than how many bad guys get killed then you really need to pick this up. Be sure to start from the beginning. You will thank me later.
Bring on the last collection!!!!!!!