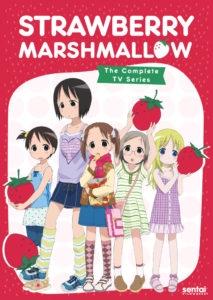 review provided by Andrew and Katie
Title: Strawberry Marshmallow: The Complete TV Series
Director: Takuya Sato
Studio: Daume
Author: Miharu Hirami
U.S. Distributor: Sentai Filmworks, Section 23
U.S. Release Date: May 10, 2016
Format and Length: Blu-ray / 12 Episodes / 300 Minutes
Genre: Comedy, Slice of Life
Industry Age Rating: 14 and up
Overall Personal Rating: A-
Similar Series or Titles to Check Out: Lucky Star, Place to Place, K-On!, Kiniro Mosaic
Sweet, delectable and mixed with a random selection of exotic nuts, (Is this a household or a fruit salad?)
Synopsis:
Nobue Itou may be attending college, but her real lessons come from dealing with her 12-year-old sister Chika and her equally adorable friends. There's Miu Matsuoka, the troublemaking girl next door who's never found a diabolical plan that she wasn't willing to hatch. Then there's the perplexing Ana Coppola, who was born in England but has lived in Japan for so long that she's forgotten most of her English and is unsuccessfully attempting to re-learn her British heritage based on some rather erroneous assumptions. After those two handfuls, shy, sensitive Matsuri Sakuragi should be a welcome dose of normality, but unfortunately Matsuri is also incredibly gullible. And then there's Chika herself, who's actually the most mature and sensible person in the Itou household… which comes in handy when her older sister attempts to raid Chika's savings in order to buy cigarettes! Get ready for a cute overload so intense that it can be used as a deadly weapon when slices of everyday life get whipped to frothy perfection in Strawberry Marshmallow: The Complete TV Series!
Commentary:
The slice of life genre is usually a very hard genre for some to watch or like. They are literally covering every day situations, and that can be boring for some. If you like the slice of life genre, you are aware that life itself is never boring, and that simple every day life can trigger emotional responses. The premise of Strawberry Marshmallow: The Complete TV Series is really quite simple. We drop in and out of the everyday lives of Nobue, the slacking college student and so called adult, and her younger sister Chika and three of her best friends Miu, Ana, and Matsuri. Do not expect a complex plot here as each episode is filled with the everyday things we all have done like going to school, enjoying cake, shoveling snow, getting lost and playing sports. However, it never gets boring as mischief is just right around the corner and it will have you laughing your head off from the silliness. The other thing about this series is its one of the first to fall into the "cute girls doing cute things" genre, a pretty recent addition to a long list of all the genres anime covers. The simplicity of plot can be a strong point but it can also be its downfall if you one of those that finds "cute girls doing cute things" to be annoying.
This being a re-release (thank you very much Sentai for getting the older out of print series back into print for everyone to enjoy again) of an older anime, the art work is what you can expect it to be from a series originally from 10 years ago. Not overly done but well done. The music tends to be catchy and not annoying. The voice acting is one of the high points as they did a good job with the characters, and with keeping in character well while dealing with the ages of the characters. Voice acting younger characters and keeping it believable can be very hard. The characters are well developed over the series and you notice trends, and with some you can start seeing what they are going to do. The characters are well written and completely believable.
Extras:
Strawberry Marshmallow: The Complete TV Series includes clean opening and closing animations and Sentai Filmworks trailers as special features. This series was released with English and Japanese with English Subtitles as language options.
Overall Grade: A-