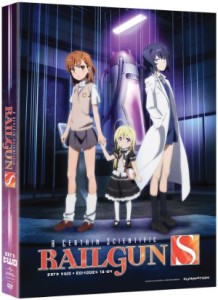 review provided by Katie and Andrew
Title: A Certain Scientific Railgun S—Season 2 Part 1
Director: Tatsuyuki Nagai
Studio: J.C. Staff
Author: Seishi Minakami
U.S. Distributor: Funimation Entertainment
U.S. Release Date: July 1, 2014
Format and Length: DVD / 12 Episodes / 300 Minutes
Genre: Science Fiction, Action, Fantasy, Super Power
Industry Age Rating: 14 and up
Overall Personal Rating: A-
Similar Series or Titles to Check Out: A Certain Scientific Railgun, A Certain Magical Index
Synopsis:
Something sinister is growing in Academy City. The shadows are filled with whispers of a project to clone one of the super-powered students known as espers. High-ranking master of electricity Mikoto Misaka, or Railgun as she is known to other espers, laughs off these stories until she comes in contact with a copy of herself. The duplicates are real and are being mass-produced from Misaka's own DNA, making each one of them a little piece of her. The Sisters, these clones, are being systematically murdered in a series of experiments designed to turn a sadistic killer into the strongest esper in history. Misaka vows to save her copies and destroy the project. However, this might be one fight she cannot win alone but she hates to ask for help. Be on the lookout for high-energy battles and intense action in this continuation of the A Certain Scientific Railgun series. Will Misaka be able to turn to her friends for help or will she be forced to fight the good fight on her own? You will have to watch A Certain Scientific Railgun S—Season 2 Part 1 and find out.
Commentary:
A Certain Scientific Railgun S—Season 2 Part 1 still takes place in academy city with the four usual characters Misaka, Kuroko, Uiharu, and Saten. However, this season focuses more on Misaka's background story and outlines her more as a character. We are also introduced the fourth level five esper and the first level five esper making for some well animated fighting scenes. In these first twelve episodes some of the characters from the first season were not featured as much as they could have been. I am hoping that will change in Part Two.
The Sister's story arc really caught my interest. I remember some of it from A Certain Magical Index and A Certain Scientific Railgun S—Season 2 Part 1 just expands on it and fills in any blanks that A Certain Magical Index left. You also see a different side of Misaka in this season. She became slightly darker, at least to me, and that added depth to her character. She really grew into her character this season and she also learns some very important life lessons. It also ties you emotionally to her and the fights that she has in A Certain Scientific Railgun S—Season 2 Part 1. Touma from A Certain Magical Index also makes an appearance in the last few episodes and I am hoping that he will be there in Part 2 because he adds that certain something to the plot. Academy City seems like a Stepford city. Rules for the general public must be followed and images for the general public must be believed. So long as the general public accepts those rules then everything will be great, however there are issues because every city has its issues. It will be interesting to see how Academy City fairs in Part 2.
J.C. Staff did an amazing job with the animation. The scenes burst to life off the screen and drag you into the story and do not let go until the end of the disc. The voice actors did an amazing job and brought the characters to life. The opening and closing songs were okay. I did not see anything special about them but they were decent for what they were. I cannot wait to see the rest of the series and I will be sitting on the edge of my seat while watching it.
Extras:
A Certain Scientific Railgun S—Season 2 Part 1 includes episode commentary, clean opening and closing animations, and Funimation trailers.
Overall Grade: A-
I really enjoyed A Certain Scientific Railgun S—Season 2 Part 1 and I cannot wait to see Part Two. I personally enjoyed this season more than the first but I recommend the entire A Certain Magical Index series and spin-offs as the storylines keep you interested. Just a word of advice for those who are reading this, do not offer up your DNA to some doctor unless you are ready for the consequences.