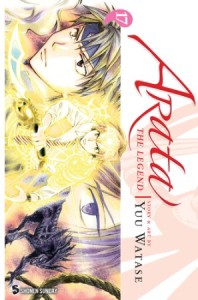 Title: Arata: The Legend volume 17
Author: Yuu Watase
Distributor: Viz Media
American release date: 3-11-14
Format:  Manga
Genre: Action, Shonen
Publisher Age Rating: T ( for teen)
Review Rating: B
Regular highschool student, Arata Hinohara, found himself transported to another reality, having changed places with Arata. Now they must live each other's lives and stop the sinister plot to bring down the government.
Synopsis:
The battle with sound and music continues with Hinohara against Kikutsune. The people from the village have come to help, but with the lack of instruments, they will have to use their voices to support Hinohara. The balance of power edges back and forth until Kikutsune transforms into a demonized form.
The volcano in the village begins to erupt. Hinohara and his companions will band together to save as many as they can. This seems to spark a change.  A villager declares that Hinohara is the reincarnated King of Hinow. Hinohara's friends begin to ask questions about something he had said earlier. And, what is his connection to the Kando forest? Is the time right for him to explain his reality and are they ready to believe it?
In modern Japan, Arata is on summer break he has gone with Oribe to Oninaki Island. They know she is in danger so he is keeping close. Oribe's extended family runs a lodge on the island, and she will be helping out. Her cousin, Maya, also works there. The cousins don't really get along, and now with Arata in the mix,  jealousy has made an appearance.
Commentary:
This was my first time reading Arata. I researched the story online before I got started. The first thing I noticed was the difference in the look from other manga. It isn't drastic, but there is this quality of shading that I enjoyed, perhaps it was only for the change, but it seemed closer to an artist putting a bit more into it. It was evident that the drawings weren't always consistent, but the author actually notes in the back end the use of assistants and how much they actually get to draw/design. The over all look of the manga is successful.
Volume 17 picks up in the middle of the fight with Kikusune and dives into the first Sho battle. In this regard, I don't think anything was resolved in taking a real step to an outcome. To me, the battle of sound didn't work so well. It was as if it was trying to be epic and heartfelt, but it came across as a bit silly. An important thing that did come to light was the demonized forms have come out. Now we can see the power the other side has. The game has really stepped up and the pages have a lot of action.
What I like most about Arata is that we get two stories in one. The modern day real person involved in an alternate world with magics helps transport the reader, to have the protagonist like himself, as if it could really happen. Not so unlike Harry Potter when a modern day kid gets involved in a magical world. This volume saw quite a difference in what was happening. From a serious, life and death situation with Hinohara which is the bulk of the book, to a drastic surface change in modern Japan where Arata is on summer break surrounded by beaches. The tone here is lighthearted with possible romance in the air, but there is trouble brewing, far away from ordinary.
Overall grade: B     Now we delve deeper into the mysteries that have created the situation. Is everyone going to be able to believe what they see and hear?