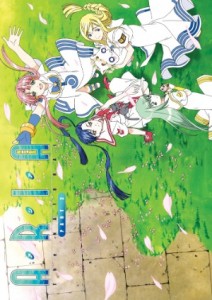 Title: Aria The Natural Season 2 part 2
Director: Jun'ichi Sato
Studio: Hal Film Maker
U. S. Distributor: Nozumi / Right Stuf
U. S. Re-Release Date: March 4th, 2014
Format: DVD / 13 Episode / 325 Minutes
Genre: Slice of Life, Sci Fi
Age Rating: 13+
Overall Personal Rating B+
Synopsis:
Akari, Aika and Alice continue to strive toward their goal of becoming Neo-Venezia's top gondoliers. As their skills improve, they find themselves faced with new challenges. On their journey to become Primas, the girls will have to paint a palina, serve as hostesses at the Festa del Redentore, and even learn how to be brave in the face of a dangerous passenger!
Even with all the drama there is still time for friends and festivities. Will the girls be able to handle the added pressures that come with their trek toward becoming the successors to their teachers who are known as the 3 Fairy Gondoliers of Neo-Venezia?
Commentary:
As we work our way through these 13 episodes it becomes very clear that this series is not just about the friendships that these 3 young ladies have developed, but rather the bigger picture of what it means to become an adult. Of course, the fact that Neo-Venezia provides a very nurturing environment makes a big difference. Even so, there is plenty for them to learn and discover on their own.
For as much as I see the ease and beauty to this series I also see the limitation that it has placed upon itself. With such a soft and easy general appearance tied to a rather gentle grace that flows through all the episodes Aria provides a supportive environment that showcases the coming of age of these characters, but at the same time gloss over some of the confusion and distress that adolescence tend to struggle with. I do appreciate the way the address some of the questions and at the same time became a little less enamored with the way in which they were presented.
I can't really say that this series is meant for that adolescent audience. The real audience is the pre-adolescent girl who is still somewhat dreamy and living in the world of happy wonderlands. This is not to say that others can't enjoy this series, I think that most of us would love to live in a world just like Neo-Venezia. A world where all of the problems of just moving through life a simplified by just being in such a peaceful loving place.
Overall Grade: B+
Aria: The Natural part 2 is still a happy easy anime to watch. I can't really discredit for giving us a picture of life in a world that most of us would enjoy having. I just think that it manages to make light of the coming of age for these young ladies. As a older viewer I like this easy escape form reality and I would guess that many younger viewers under the age to 10 just might find it romantic, but for those who are currently at the same age as the 3 protagonist I think it would be frustrating to watch. Anyway, I still like Aria and see it as a highly idealized world that I would love to live in.